Childcare
Live Chat with our friendly team
What is In-Chalet Childcare?
Our optional À La Carte Childcare is provided in the comfort of your own chalet 6 days a week by our childcare staff, nannies and Monty the Marmot. Our team create a welcoming 'home away from home' atmosphere the whole family will love.
Our childcare services take place in the ski chalet you stay in, not a large impersonal crèche.
Our childcare options are flexible and designed for skiing families, allowing you to book what most suits you and your children.
All 16 of our chalets have their own dedicated playrooms.
Our professional carers are a mix of qualified nannies, teachers and nurses supported by experienced assistants. All are recruited by us in the UK.
Monty and all of our childcare professionals are enhanced CRB (now DBS) and reference checked and hold a first aid qualification.
Ratios follow OFSTED recommendations for day care.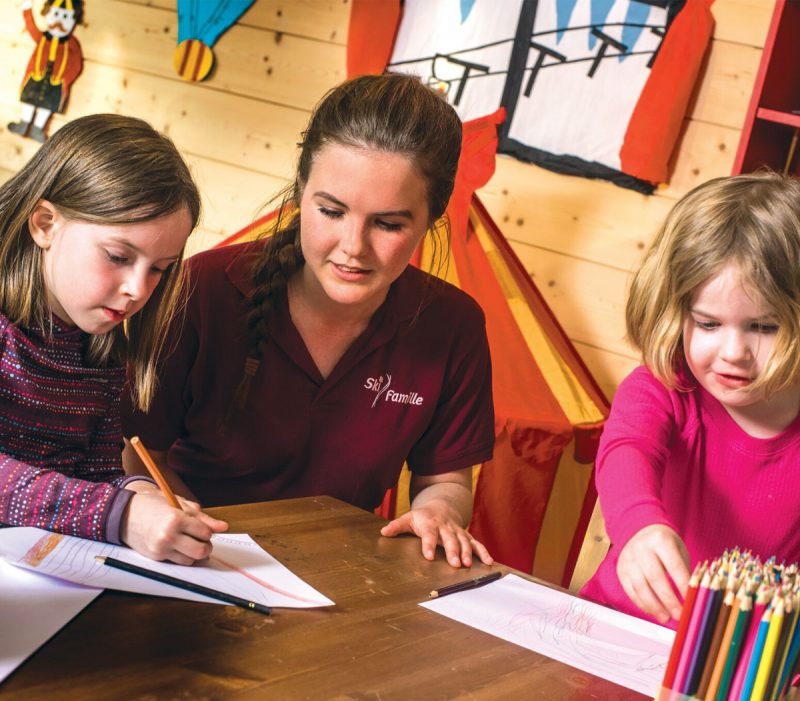 Safe stimulating fun in and around your chalet with our team of caring chalet nannies and carers. Includes supervised lunch and all activities.
In-chalet childcare
4 months – 4 years
9am – 5pm
Six days a week
£489 per child per week
Suitable for all ski abilities (English speaking). We get children ready for ski lessons, take them to and from the ski meeting points, and liaise with our ski school partners. Lessons are typically 2hrs 45 minutes long. Times, days and durations do vary by resort and age group.
£369 per child per week
Plenty of outdoor play and snow activities, including a supervised hunt for Monty the Marmot, tobogganing, arts and crafts and much, much more. This option includes supervised lunch. A great option for children booked in to Mountain Marmots in the morning.
£369 per child per week
As part of our in-chalet childcare options we offer a supervised lunch in your chalet. This option is included within the Mini Marmots and Monty's Afternoon Club packages. Supervised lunch is a popular option for families booking Mountain Marmots in the morning but keen to spend time with the children in the afternoon.
In-chalet childcare
3 years – 12 years
12:30pm – 2pm
Six days a week
£129 per child per week
Making Skiing Holidays with Babies and Toddlers Fun
Live Chat with our friendly team
Travelling and skiing with young children has never been easier.
Around a third of the children staying with us are three or under.
We go to great lengths to ensure that our youngest guests (and their parents!) are comfortable and have access to all of the facilities they need.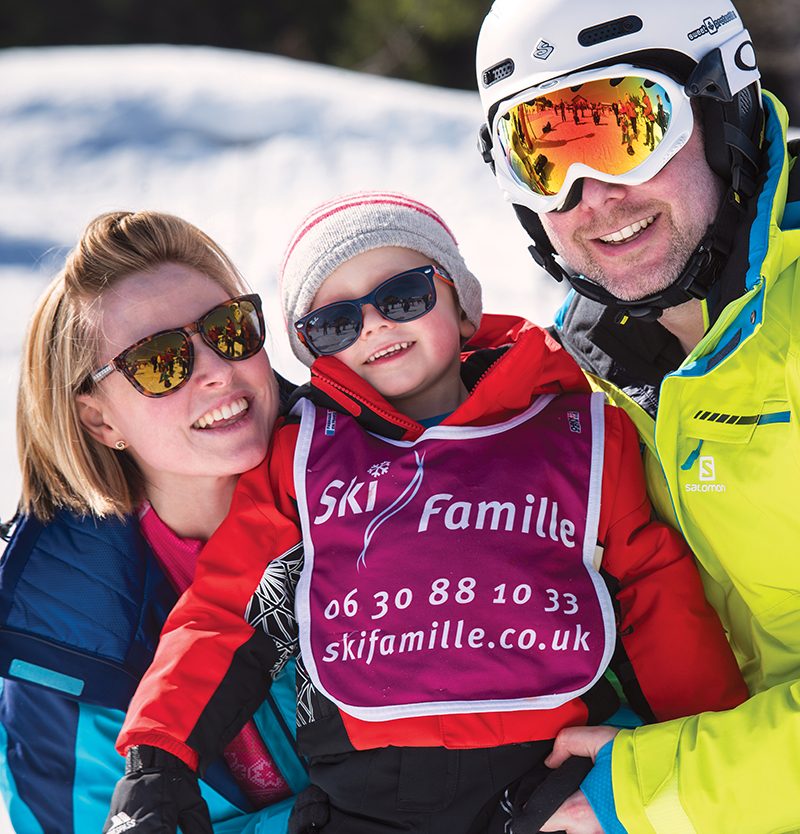 High chairs, changing mats, baby baths, sterilisers, microwaves, baby monitors and night lights. You name it, we've got it.
Babysitting is available 6 nights a week across all of our chalets, allowing you to explore the local après ski scene.
We offer free child places for babies and children under 4 on many weeks this winter. On other weeks we offer a price reduction of up to 70%.
Complimentary Ski Famille Baby Pack
We make it as simple as possible for parents travelling with infants of up to 24 months by providing all of the equipment and facilities below in all of our family chalets:
Complimentary nappies and wipes – simply travel with what you need for the journey!
A travel cot with luxury foam mattress and cot linen will be in your room on arrival
High quality all terrain buggies available at all of our chalets
Homemade purées and a range of Hipp Organic baby jars are provided at meal times
Bed guards and everything else you would expect to stay safe
Monty the Marmot
Live Chat with our friendly team
Who is Monty?
Monty is fun and friendly, and he loves nothing more than skiing with his friends!
Monty joins us this season to ensure children (and adults) of all ages enjoy the mountain environment and take part in lots of fun packed activities throughout their stay. He's even around for a photo or two.
You Could Meet Monty!
If you do happen to bump into him during your holiday, let us know by uploading a photo of yourself and Monty to Instagram or to our Facebook page using the hashtag #imetmonty.