Posted by

sf-admin on

Last Updated 1st September 2020 at 1:17 pm

Going on a first family skiing holiday is always an exciting experience. If you and your partner love skiing, sharing your passion with your children for the first time is a big moment. You'll want to make the most of the slopes, enjoy some quality family time together and introduce your children to the mountains in the best way possible.

Of course, all family holidays take some preparation and a skiing holiday is no different. Without investing a little time in the preparation it is easy for little things to go wrong. These can then build up making your holiday much more stressful than it should be!

With that in mind, let's take a look at some of the most common mistakes families make when heading off on a family skiing holiday. Then, perhaps most importantly, we'll look at how you can avoid them to ensure your holiday is relaxing, fun and stress-free from start to finish!
The wrong accommodation
Choosing the right accommodation for your skiing holiday is crucial. You might think that a comfortable hotel will suffice, however, it is important to remember you are likely to want more space, areas where you can relax as a family, and those extra luxurious touches to help you really unwind after a day on the slopes.
With dedicated playrooms, comfortable lounges, roaring log fires, balconies, heated boot rooms, saunas or hot tubs and amazing views, we are certain you'll love your Ski Famille chalet. You'll also have the services of our friendly chefs and hosts meaning you needn't lift a finger. We also provide added extras from luxury toiletries and snuggly bathrobes to nappies, baby bottles and high chairs – and if you need anything else, all you have to do is ask!
Factors such as proximity to the ski lifts are also worth considering. We have specifically chosen our chalets for their proximity to the ski lifts – in some you can ski straight out of the door!
Looking into what your chosen resort has to offer is also a good idea;  it is important to note what facilities and activities there are for families. At Ski Famille all our resorts have been picked because they are truly family-friendly. Whichever resort you choose you'll find our chalets are spacious, luxurious and wonderfully cosy. All our properties provide you with a gorgeous home from home to use as a base for your family ski holiday.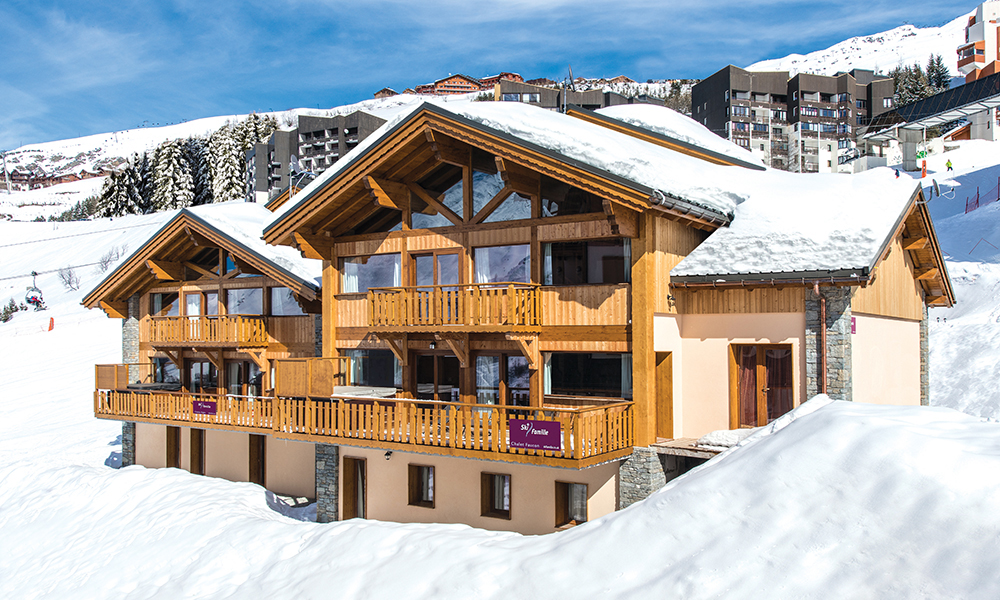 Not knowing what to pack
There is nothing more irritating then arriving at your resort and unpacking your bags only to realise you've forgotten something essential. Knowing what to pack for a family skiing holiday can be tricky and, while your resort may have shops on hand where you can buy essential items, being prepared and organised will save you time, money and hassle in the long run.
To make sure you come fully prepared for your trip, why not take a look at our handy packing guide to help you?
Failing to book the right travel arrangements
Booking flights at an inconvenient time or forgetting to organise airport transfers can quickly turn into a logistical nightmare, particularly if you have tired, hungry children in tow!
Why not let us make things easier for you? If you book your holiday with Ski Famille our flights and transfers are included in the price, so we'll be there waiting for you when you step off the plane to take you straight to your resort. This means you arrive at your chalet as quickly as possible, allowing you to enjoy the start your holiday.

Not organising skiing lessons
If you or your children have never skied before, it's advisable to have a few taster lessons before you head off on your holiday. It can be easy to get wrapped up in the idea of all learning to ski together or teaching your children yourselves, but in reality, it will be more beneficial for everyone to leave it to the professionals!
Understanding the basics, building confidence and just knowing a little about what skiing is all about will help your children feel prepared to tackle the slopes from day one. If your children aren't confident skiers and would benefit from skiing lessons why not book some in before you arrive so they can learn and grow in confidence while you enjoy the more challenging pistes? Children's lessons are included in our morning childcare sessions.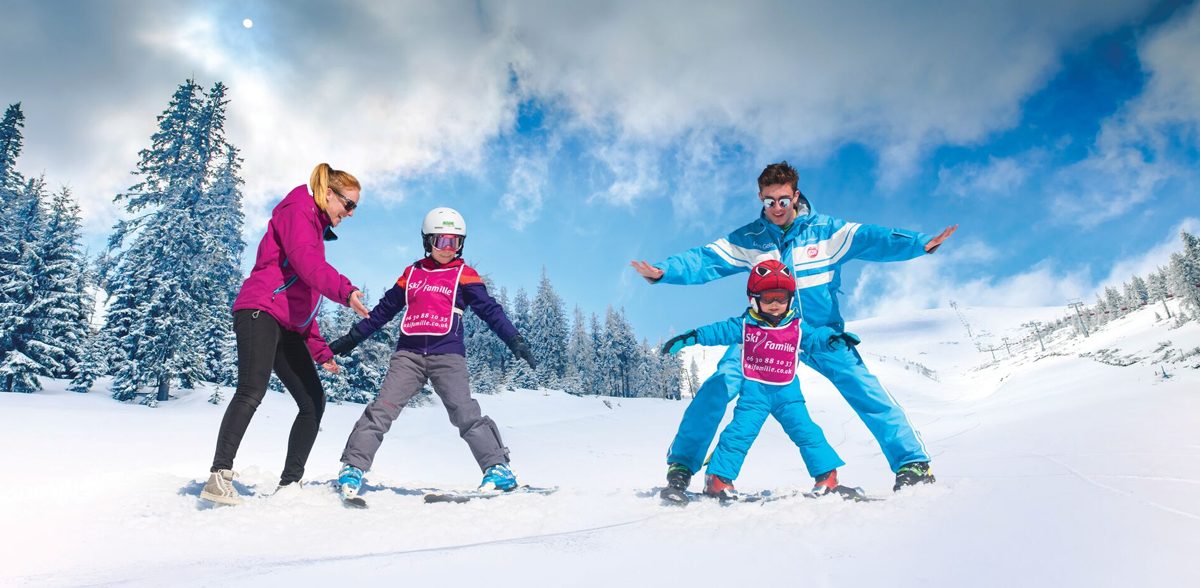 Forgetting about adult-only time
Whilst it is great fun to enjoy some family time together on the slopes, you may also be looking a little adult-only time from your ski holiday.
Booking with Ski Famille means you'll have access to our fantastic in-chalet childcare service. You can pick from different childcare options where our expert team of nannies and childcare professionals will come to your chalet and look after the children, take them to ski lessons, organise fun activities for them and generally keep them happy and entertained until you return from the slopes.
Our chalets are also perfect for socialising, so once you've put the children to bed in the evenings you can relax by the cosy fire and enjoy an evening of great food, drink and company! Three course dinners with wine are provided 6 nights a week in all our family chalets.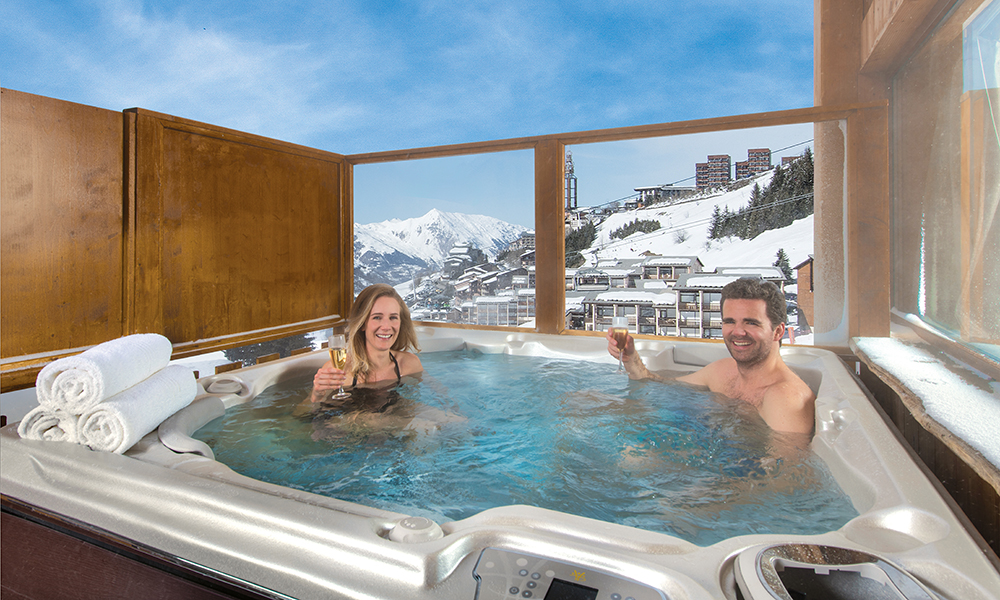 Not looking into the apres ski activities available
While you might all just want to collapse and snuggle up on the sofa after a day's skiing, it is useful to look into what apres ski activities are available in your resort too.
Children have boundless energy, and if they decide they want to take a break from skiing, it's great to have different activities available to enjoy as well.
All the resorts we operate in have a wealth of apres ski activities available for families to enjoy. From tobogganing to husky sledging, hot air ballooning to swimming and spas, you are sure to find a selection of family friendly events and activities to get involved in. Find out more about our resorts here.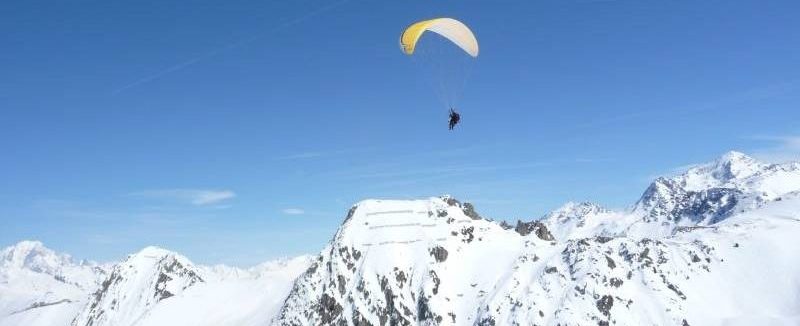 Not researching food and drink options
After expending so much energy on the slopes, you'll all be looking forward to each and every meal. Making sure your resort offers plenty of great options when it comes to food and drink will ensure all your family stays happy and well-fed!
All our luxury ski chalets are fully catered six night's a week meaning you can wake up each morning to a hearty breakfast, enjoy a homemade cake in the afternoon and indulge in a spectacular three-course meal with carefully selected wines each evening.
We also offer a specially designed children's menu to keep the little ones happy!
Make sure that your first family skiing holiday will be a fantastic experience for you all, and follow the above tips to ensure you are prepared, organised and have everything you need to have the best experience ever!