Posted by

sf-admin on

Last Updated 21st May 2019 at 3:11 pm

After a long day out making the most of the slopes you will no doubt want to relax, unwind and enjoy all that your beautiful resort has to offer. Whether you are happy to simply spend some quality family time in your cosy chalet, or want to get back out there and explore the many fantastic après ski activities within your resort, here are some of the best ways to spend your time once you are off the slopes:
Enjoy some family fun in the snow!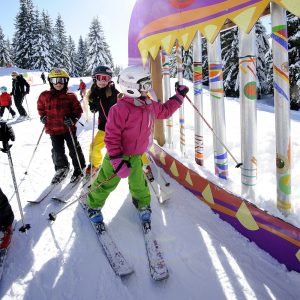 Children love the snow, and even after spending the day out on the slopes, will still probably have the energy for some well-deserved play time. Build snowmen, go sledging or tobogganing or simply have a good old-fashioned snowball fight!
Having fun in the snow is a great way to unwind and share some laughs with the whole family, so make the most of it!
Play games in your 'home away from home'
Playing a game is the perfect way to relax after a day out on the slopes. 
Our family ski chalets have dedicated playrooms which are full of toys for younger children to entertain themselves with, as well as plenty of games that the whole family can sit down to and enjoy.
We have an arrary of board games in all our chalets too, so you can relax, spend some time together in your chalet, and make sure you all feel refreshed and ready for another great day of family skiing the next day!
Fabulous meals
Delicious, freshly cooked meals are the perfect way to relax at the end of the day, as well as give you energy to get back out there on the slopes. 
We believe your holiday should all be about taking some time together to unwind, have fun and enjoy fantastic skiing, so we make sure you don't have to lift a finger in the kitchen while you stay with us.
In our chalets we provide a truly stunning evening meal including aperitif, canapés, three courses and coffee, together with wines 6 nights a week. 
We also offer a carefully selected children's menu designed with even the fussiest eaters in mind, so we know your children will love it! Our meals are made using the freshest and highest quality ingredients and were designed by the brilliant, award-winning Cambridge Cookery School.
Have a family movie night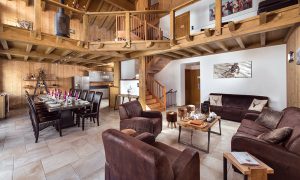 Cosy up and take time out in our elegant and comfortable living space, choose from our great selection of family-friendly DVD's and have your very own movie night as a family. 
Sitting back with a film is sure to leave you all feeling totally relaxed and stress-free.
Enjoying a wonderful restaurant meal in your resort
All our fantastic resorts boast a wide range of restaurants where you can enjoy a delicious meal out as a family. Our holidays are catered 6 nights a week, giving you the Wednesday night to head out and explore the range on offer.
Our chalets are situated right in the centre of the resorts, so getting to and from the restaurants and shops has never been easier.
Socialising with other families and children in your ski chalet
Our family ski chalets are great places to meet likeminded families. 
Children will love meeting new friends and enjoying the fantastic facilities that the chalet has to offer. 
They can get cosy by the warming fireplace, play games, and watch DVD's together, all of which will give parents a well-deserved rest, and time to relax and chat while perhaps enjoying a glass of wine or two!
Having a special 'grown-ups only' night out/in!
Ski Famille offers the very best  à la carte childcare in your chalet. 
This means if you do fancy a grownups night out exploring the fantastic restaurants, pubs and bars in your resort, you can rest assured your children will be happily cared for and entertained by our experienced childcare staff, all from within in the very chalet you are staying in!
Enjoying apres ski time as a family is all about relaxing and having fun. 
At Ski Famille we make sure that everything from your accommodation, meals and the entertainment facilities we provide are designed so you can rest, relax and enjoy your holiday both on and off the slopes. There is plenty to see and do within our resorts which the whole family can enjoy, though of course once you are warm and relaxed with a glass of wine in front of the fire, you may well want to stay in anyway! 
If you are looking a great deal on a fantastic family skiing holiday then we can help. Ski Famille offers stunning catered ski chalets and we have some great deals too!
Our friendly team will be happy to answer any questions you have about booking your ski holiday and our family-friendly ski resorts. They are available on 01252 365 495.