Posted by

sf-admin on

Last Updated 7th December 2020 at 12:42 pm

La Plagne is, without doubt, one of the best ski resorts in the Alps for families. Its numerous resort centres are mostly car free, creating a family-friendly pedestrian atmosphere, and the majority of the lifts are very easily accessed on foot from each of the villages.

The accommodation on offer is largely family friendly too, such as our ski-in-ski-out chalet, Chalet Delphine, as well as the family-friendly Chalet Nicole nearby. And with a choice of nurseries and our in-chalet childcare to look after the little ones, adults can ski safe in the knowledge they're being well looked after.

On the slopes there is a choice of ski schools taking children as young as three (such as ESF, our chosen ski school in La Plagne). And the various ski gardens, carpet lifts and baby tow ropes make learning easy and fun. Plus, the ski instructors speak English, so your little ones can understand what's being taught more easily.

As well as great skiing, families can also enjoy a range of other activities including games arcades, paintballing and tobogganing.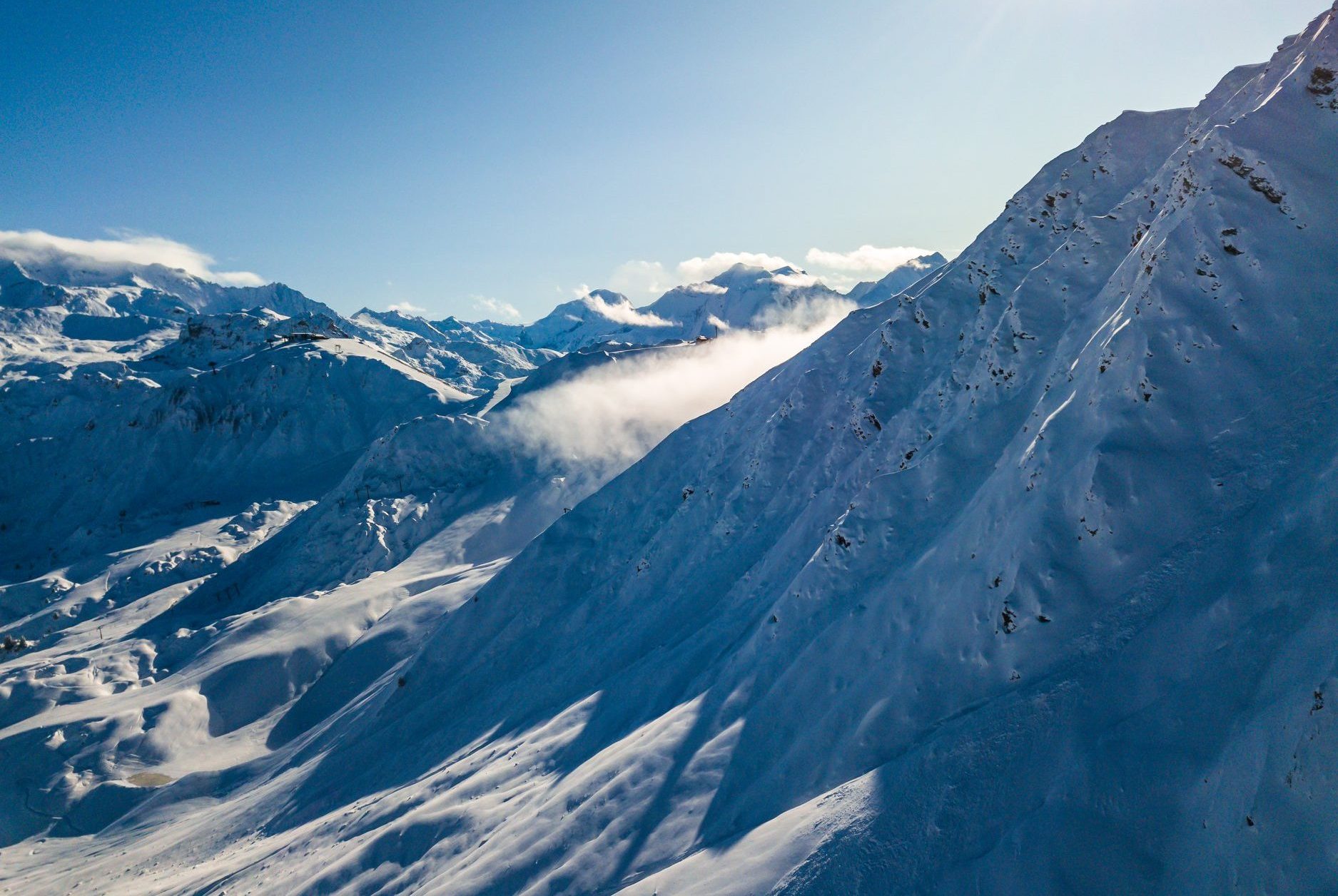 La Plagne stats and resort info
Pistes: 225km in La Plagne (425km in Paradiski)
Green: 9
Blue: 72
Red: 34
Black: 19
Lifts: 95
Vertical: 2000m
La Plagne is in a beautiful location, known for its high plateau surrounded by mountain peaks. This more than compensates for the more modern architecture in the villages which is not always to everyone's tastes.
The resort was mostly built to have as little impact on the ski area as possible, which explains why there are more large blocks here than you might expect in an alpine ski resort. Although, some of the La Plagne villages are definitely more attractive than others.
Our chalets are found in Plagne 1800; a pretty, family-friendly resort that sits 200 metres below La Plagne and contains chalets that are all very close to the pistes.
You'll also be right on the edge of the Parc Regionale de la Vanoise, so keep your eyes peeled for ibex, chamois and golden eagles as you ski or head up on the lifts.
It's a huge resort, in fact the largest in the world in terms of numbers of available beds and total ski days. It also has the biggest ski lift in the world, the Vanoise Express, which links it to neighbouring Les Arcs, forming Paradiski, the third largest ski area in France. It's hard to believe that as a relatively new resort, there was nothing here at all until around 50 years ago.
In general, it is better suited to beginners and intermediate level skiers, with wide and open slopes both above and below the trees. But it is also home to some of the best off-piste terrain in the Alps. Plus, with the link to neighbouring Les Arcs, you have a huge choice of slopes to explore.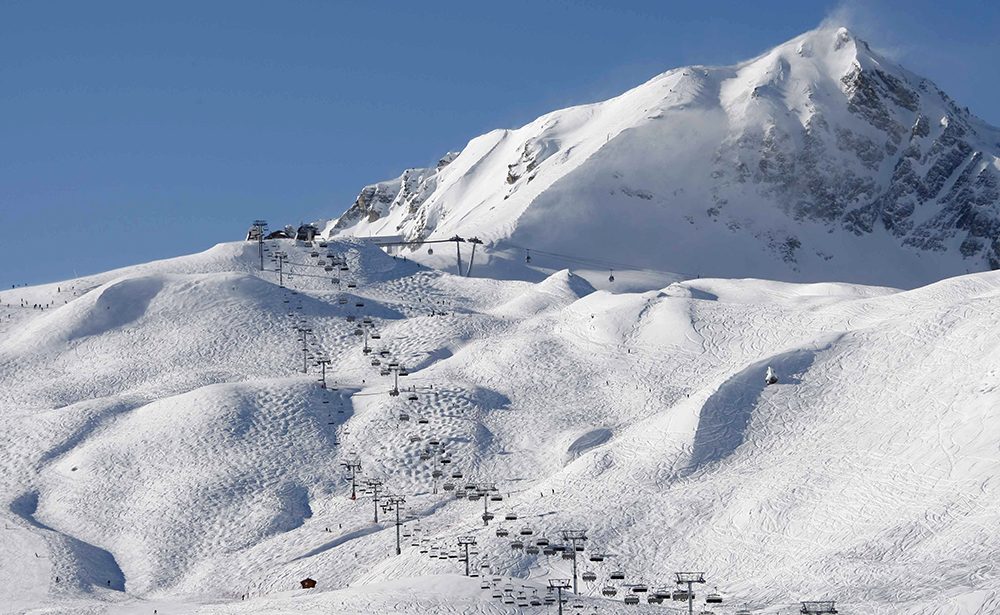 What makes it great for families?
It has, over the years, proven to be a very popular choice for families, offering an excellent choice of child-friendly chalets, plenty of gentle slopes for your little one to build confidence, and top value for money. These are probably three of the main considerations for most family ski holidays.
But there's more that gives La Plagne its broad appeal.
The resort is made up of six smaller but separate villages: Aime la Plagne (2100m), Belle Plagne (2050m), Plagne Villages/Soleil (2050m), Plagne Bellecote (1930m), Plagne Centre (1970m) and Plagne 1800 (1800m). Each of them is pedestrianised and has direct access to the slopes. So, you won't have to mess around loading everyone on to a bus just to get to the lifts each morning.
However, the villages are well connected, with free buses that run about every 20 minutes, so you can make use of all the other entertainment facilities on offer in the evenings.
There is a good choice of family accommodation, with plenty of ski in/ski out options and chalets close to the pistes in Plagne 1800 such as Chalet Nicole and Chalet Delphine. Ski schools can also meet you at any of the villages, however the main points tend to be La Plagne Centre, Plagne 1800 and Belle Plagne.
Choice in the type of accommodation is also large, with most villages offering self-catering, chalets and hotels.
You will find some child-friendly snow zones with fairies and dragons where they can play in safety. And with the high altitude of the villages in La Plagne, even the nursery slopes are generally guaranteed good snow.
Off the slopes there are plenty of other fun activities to try. Even if you only ski in the mornings, you can still enjoy action-packed days as a family. If you still want to have fun on the slopes, there are sledging areas in Plagne Centre, Plagne Villages, Montchavin and Champagny amongst others. Taller children above 140cm can have a go on the luge track at Plagne Centre. It's called the Colorado Ride, and luge and helmets are provided.
In Plagne Bellecote you can enjoy the outdoor ice skating rink, with an undercover option in Les Coches, with skates for all ages available to rent. Take a ride on a husky dog sled or strap on some snowshoes and follow the winter walking trails. Brave the elements and spend a night in an igloo or for something different visit the ice sculpture park on the glacier up past Plagne Bellecote.
Christmas is a major event for families in La Plagne, with markets, parades and even Santa himself making an appearance. And there are plenty of other festive events, as well as entertainment to enjoy throughout the season.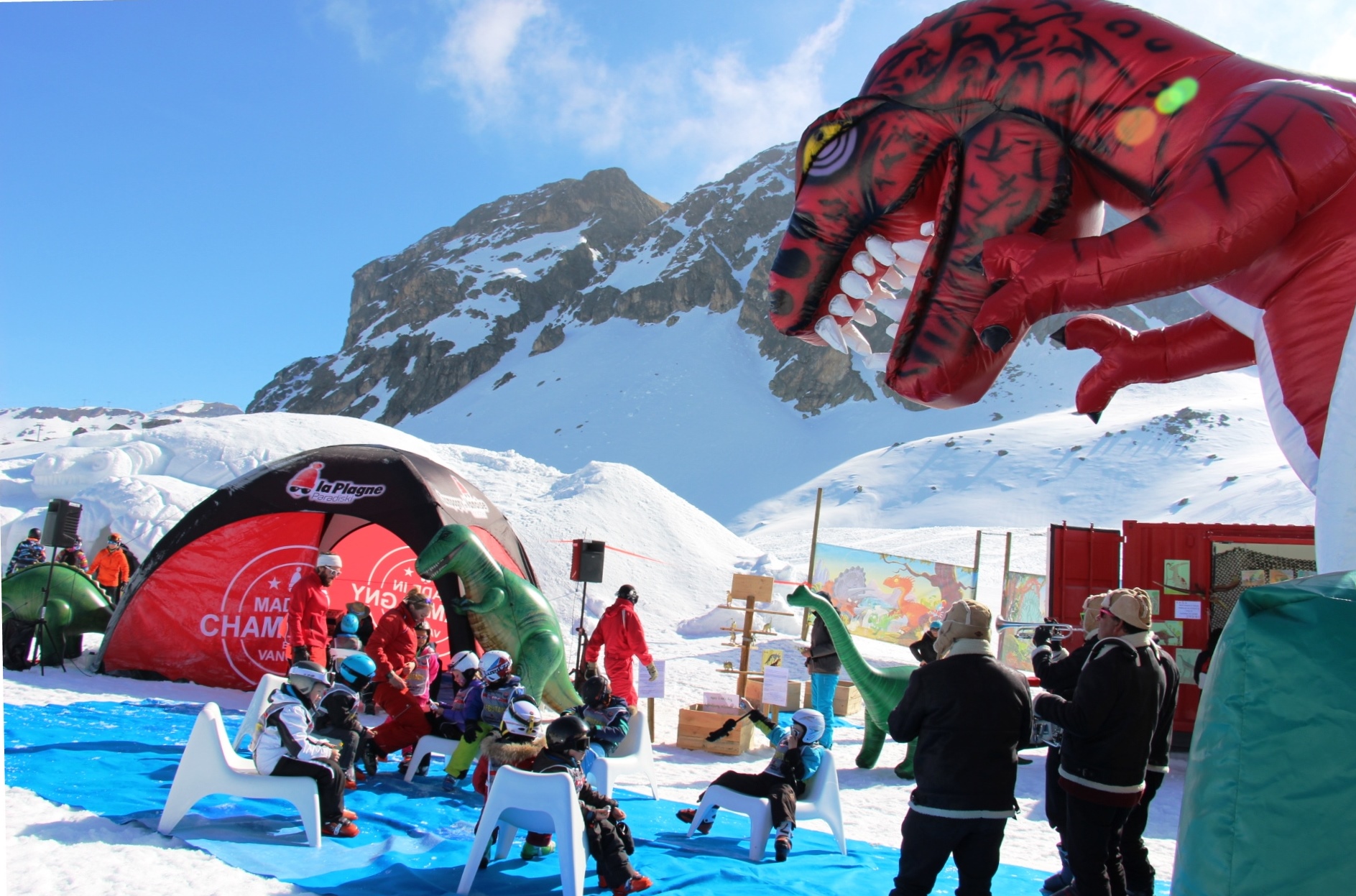 Slopes
La Plagne is renowned for being well suited to beginners and intermediates. High up on the plateau around the villages of Belle Plagne, Plagne Bellecote and Plagne Centre you'll find more than enough to keep you happy.
If you've got a few weeks of skiing under your belt, know the basics and are looking to improve, then the wide and gentle pistes are ideal. There is skiing both above and below the treeline, so even if the weather comes in you can still find areas where visibility is good. Complete beginners should check out areas around Plagne Centre and Aime La Plagne.
Intermediates will love the amount of blue and red runs available. Long, cruising pistes and steeper blues like Mira and La Grande Rochette are worth trying. And the reds plunging down into Champagny are excellent.
If your idea of fun is skiing well-groomed blacks then La Plagne is perhaps not for you. Most of the black slopes are 'Natur' so they are managed but mostly unpisted – which is great for those that like to head off-piste.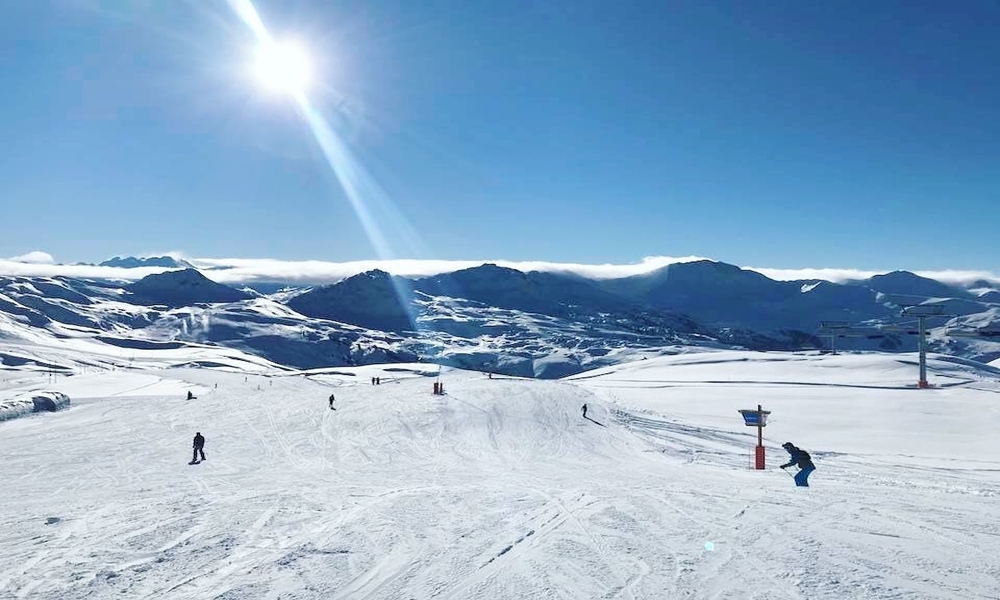 Off-piste
Although La Plagne has a reputation for being a relatively easy ski resort that's great for families and beginners, there is a huge amount of off-piste terrain.
Those new to freeriding should start on the Natur black slopes which are managed to make them avalanche safe. In fresh snow these provide the safest way to take advantage of La Plagne's freeride potential.
If you are looking for something more serious then both the northern and southern faces of the Bellecote are well known within freeride circles, offering over 2000m of backcountry descent. However, they should only be attempted with a guide as they can be very dangerous and it is easy to get lost. The southern side is a little easier but is more avalanche prone so you need local knowledge to know if it is safe. The northern side is more difficult with steeper terrain which is dotted with sheer cliffs.
For something a little easier there are some great routes from Roche De Mio dropping down towards Montchavin or Champagny de Vanoise. And there is freeriding on the faces of Grand Rochette, Verdons, and Biolley above Plagne Centre. You can also find very good off-piste at Aiguille Rouge over in Les Arcs, which again can be very challenging.
Furthermore, there is plenty of between piste terrain that is easily accessible from the marked slopes which is good for finding your powder legs. But remember if you are heading off-piste you should have the relevant safety gear and know how to use it. The best option is to join one of the many off-piste training days.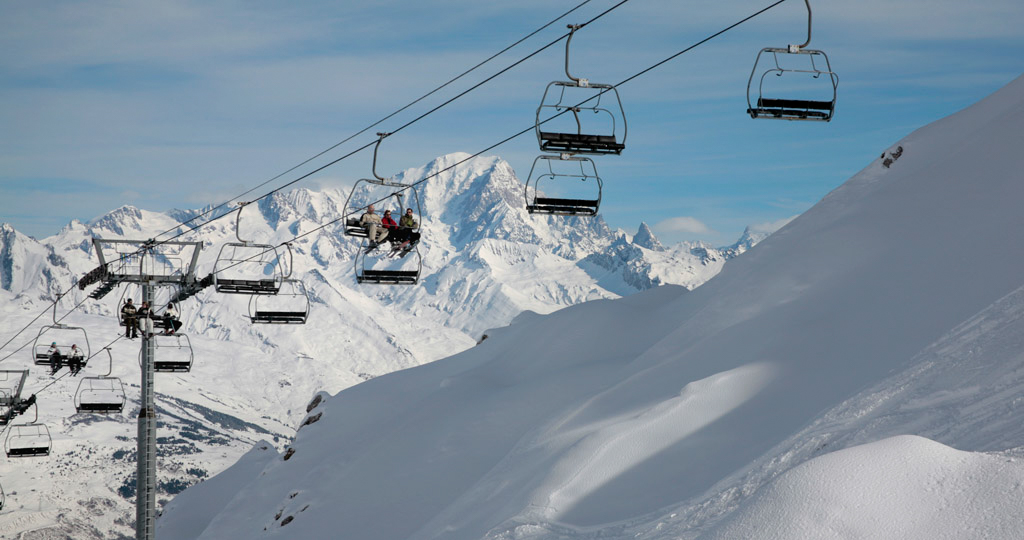 Parks
There's a large snow park above Belle Plagne where you'll find features for all levels of skier and snowboarder, including first-time freestylers. And even if you and your youngsters decide that getting some air and pulling off tricks is not for you, it's still fun to go and watch. There are regular competitions so if you are lucky you can see how it's really done.
In the park you'll find a ski and boardercross track to practice your race skills, a half pipe and big air bag. And if you'd like to catch your runs on film, scan your pass at the start.
There's also a new area called the Fun Slope, located near the Arpette lift in Plagne Bellecote. It's a cross between a boardercross and slopestyle course and it's a lot of fun, especially for younger riders.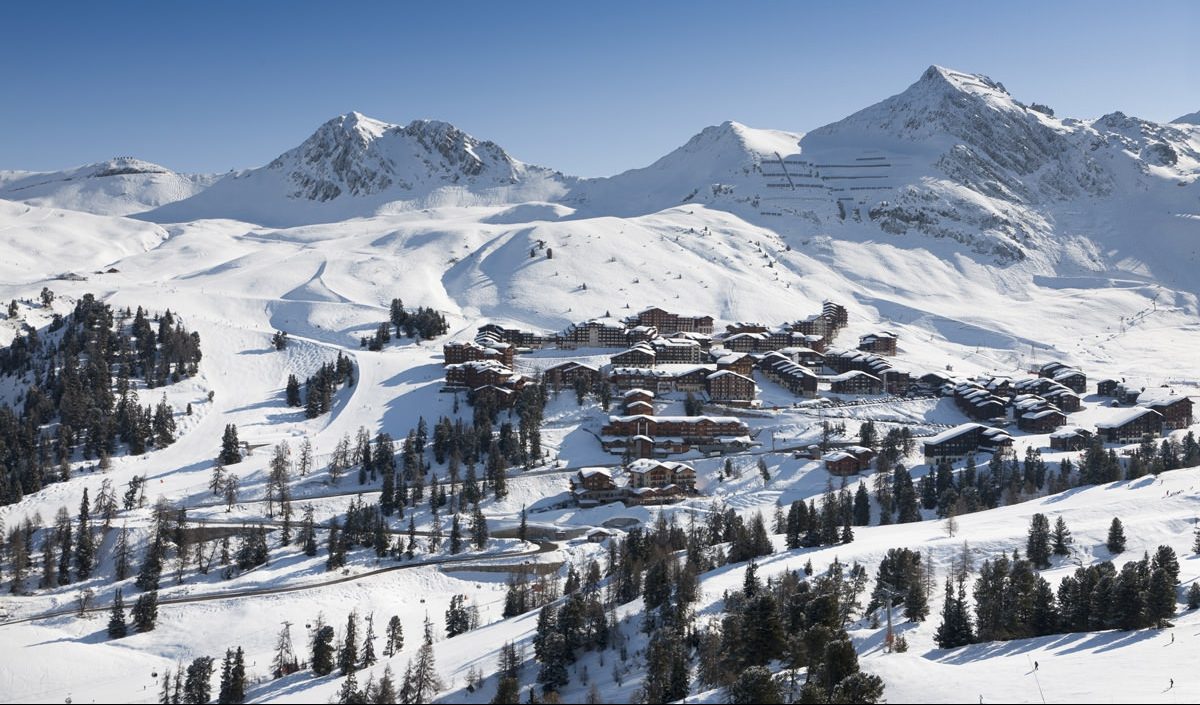 Eating out and nightlife
As a family-friendly resort, don't expect nightclubs and bustling bars of an evening. And it's not the kind of place you'll find celebs hobnobbing in fancy restaurants. Part of La Plagne's charm is that it is simple and no-nonsense. However, there are lots of good restaurants (most with child-friendly menus) and bars, and a large variety of good value food to suit most tastes.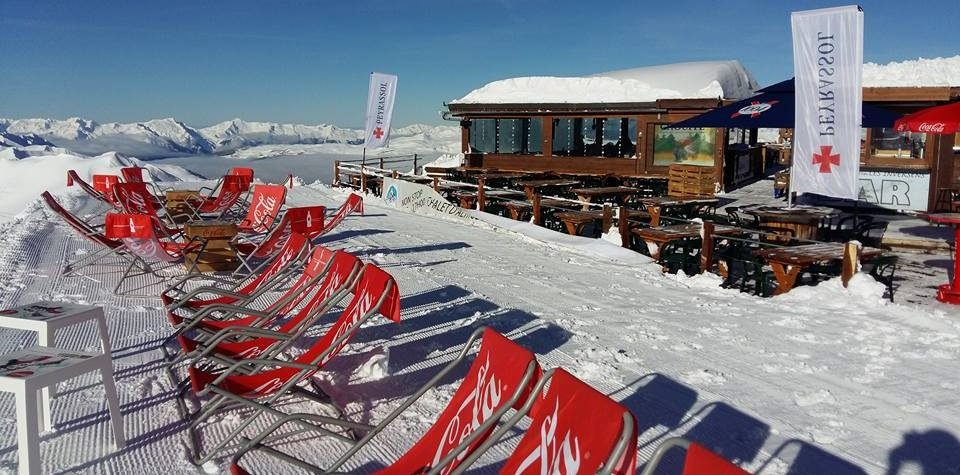 Other information
As well as being a top family resort, La Plagne is also forging itself a reputation as centre of winter activities. There is an amazing choice of things to do off the slopes. The star attraction is France's only international standard bobsleigh track. It is expensive to have a go, costing around €100 a run, but reaching speeds in excess of 100km an hour, it's an experience you will never forget. Minimum age is 16 for the mono bob and 18 for the taxi bob, which comes complete with skilled driver.
Similarly exciting, but in a different way, is glacier walking. You'll trek up from the ice cave at Bellecote, wearing crampons to give you grip, and your guide will make sure you make it back safely. Horse-drawn and dog sled rides are also available, and are an incredible way to see some of the backcountry – it's also much harder than it looks.
A section of the ice climbing world cup is held on the artificial 22-metre-high frozen waterfall at Champagny, and it's well worth a watch if it's going on during your stay. If you fancy a go yourself, you'll need to be older than 10 and have a head for heights. You can also see genuine frozen waterfalls around the valley – but these are not for climbing.
On Thursdays, you can go ice karting, and there are also quad bikes available for rent. Or you can get a snowmobile from several locations for around €90 an hour.
If you really feel like a challenge, the Mont de la Guerre takes place at the end of January each year. With five categories of skiing to enter, it costs around €40 and you'll get to race with other competitors over some challenging terrain.
With excellent schools for youngsters as well as childcare options, La Plagne is a firm family favourite. And with a huge amount of red and blue runs, plus the option to explore more of the vast Paradiski area, it's an intermediate skier's dream. Add in a burgeoning reputation as a hub of other winter activities, and it's excellent off-piste action, and you have a ski resort with a little something for everyone.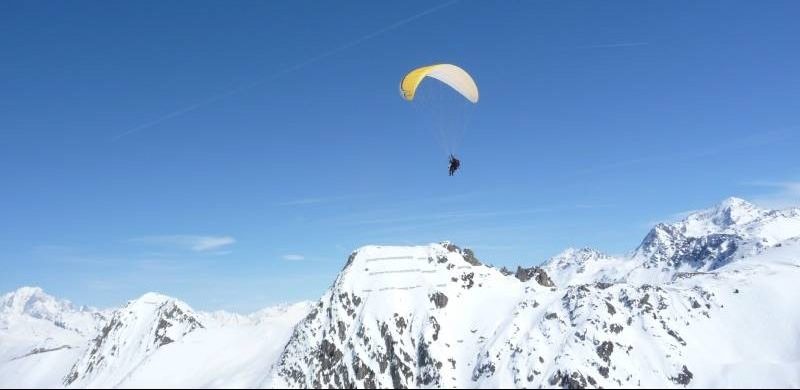 ---
Find out more
To book your dream family ski holiday in Plagne 1800, call our friendly on 01252 365 495.
Our Chalets in La Plagne
Chalet Nicole
Sleeping up to 30, Chalet Nicole consistently generates great guest feedback. Almost all of the rooms are family suites and several have stunning views over the ski area. You are a very short walk from the slopes and the ski school is within easy reach.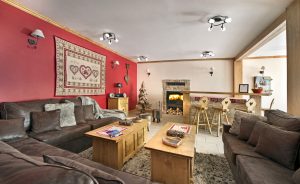 Chalet Delphine
Located beside the piste in Plagne 1800 it offers easy access to the superb Paradiski ski area and a high standard of accommodation. Designed specifically for Ski Famille guests, this chalet offers families space, privacy and superb facilities.