Posted by

sf-admin on

Last Updated 22nd September 2020 at 2:18 pm

Les Gets is often considered the perfect resort for families, with the whole ski village designed around fun things to do for visitors of all ages.

This 12th-century Savoyard resort has won awards for its childcare and junior skiing facilities. Which means kids will have a great time, and parents can ski knowing that their little ones are being well looked after.

The ski schools here are excellent and there is also access to the wider Portes du Soleil ski area. And with a large range of accommodation options (including our all-inclusive chalets), it ticks a lot of boxes for a family-friendly skiing holiday.

Les Gets stats and resort info
Pistes: 116km in Les Gets (650km in Portes du Soleil)

Green: 7

Blue: 13

Red: 26

Black: 8

Lifts: 47

Vertical: 829m
Les Gets lies at about 1200 metres and the lifts take you up to just over 2000 metres. So most of the skiing is below the treeline. While this gives Les Gets a pretty and picturesque feel, which is added to by the quaint village environment, it's low altitude means it has a shorter season than other resorts.
Despite this, it has a good snow record, with great scenery and some excellent views of Mont Blanc.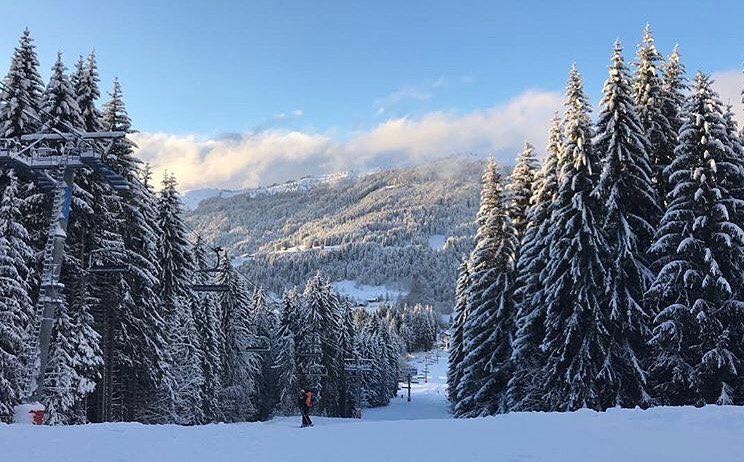 What makes Les Gets great for families?
Let Gets has really gone out of its way to cater for families and kids, and is richly deserving of its 'Familie Plus Montagne' label.
A great example of its family-friendly facilities is the Le Grand Cry, an area of mountain dedicated to children only.
It's themed, with trappers and native Americans motifs, including large snake eggs and totem poles.
And its gentle runs are served by two ski lifts, so your kids can learn in safety away from the main pistes.
It's perfect for kids aged between five and 12, with face painting workshops, storytelling and drawing competitions.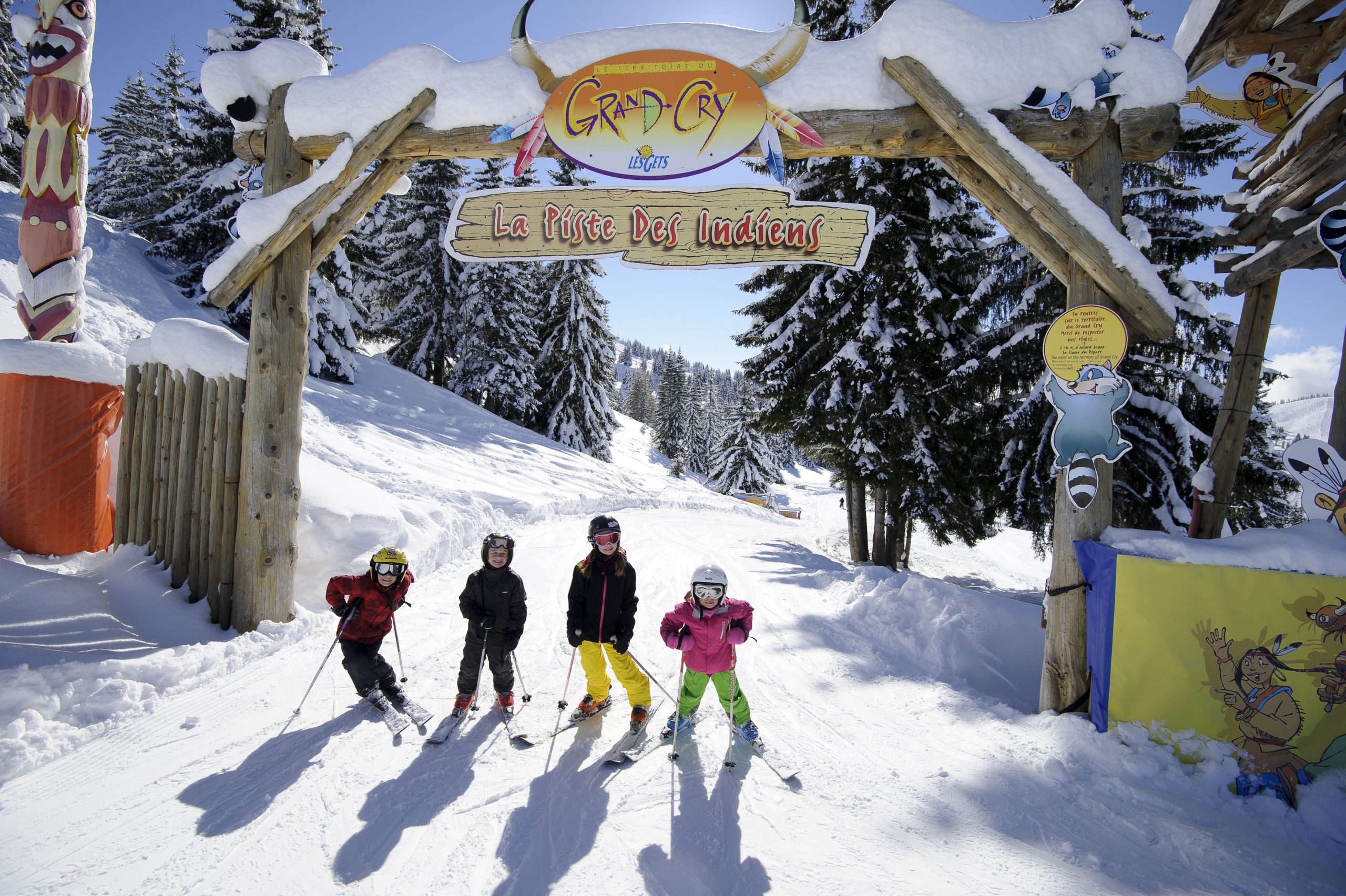 Le Grand Cry
If they're a little tired of skiing or snowboarding and want to give something else a go, then you can head to the children's sledging area.
It's separated from the main skiing area by an inflatable tube.
All of our chalets have sledges, so you can spend a fun few hours as a family.
The five dedicated sledging slopes include Vieux-Chene, a 50m run for the under sixes, and Perrieres, a 100m slope for children over six years old.
The Milka Mauve slope is also a great place to go with the kids. There are animal cutouts, and some educational extras. And even free chocolate in the French school holidays.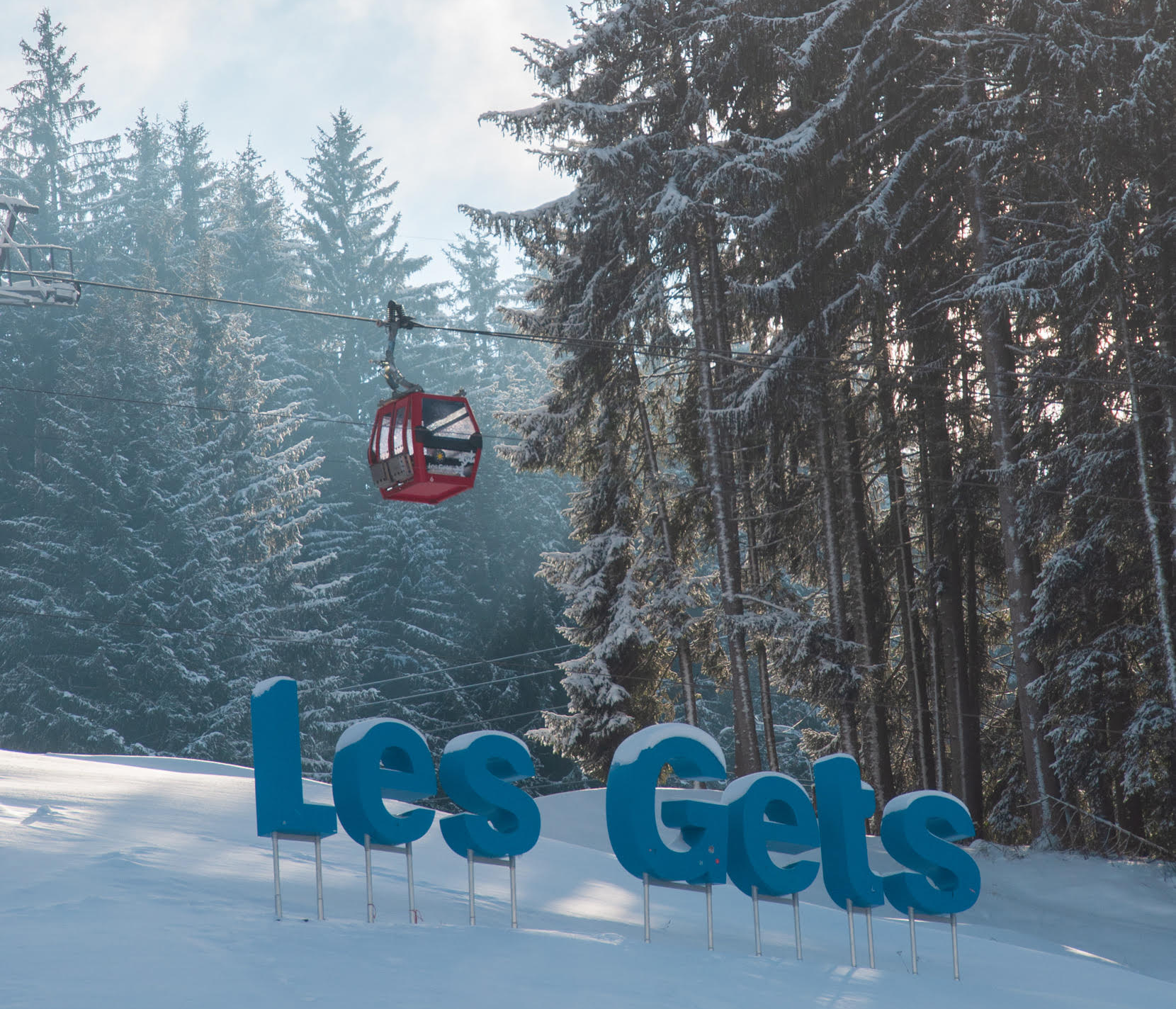 © Mel Carle / OT Les Gets Tourist Board 
There are also special seasonal attractions that will appeal to kids of all ages, including a skiing Father Christmas who appears on the slopes to hand out sweets. Plus family events in the village, such as the torchlight parade.
The skating rink is located in the very centre of town and has become a real focal point for family fun. It's floodlit so you can ski even after dark. Skates for all ages are available to hire.
There's also a fun mini-train which tours around the village, and weekly chocolate making workshops in the chocolate shop. Great for keeping the whole family entertained for a few hours.
If you'd like to spend a few hours without the kids there are plenty of childcare options.
These can be arranged through our optional À La Carte childcare that takes place in our dedicated playrooms in our chalets.
Alternatively,  there are off-site crèche facilities available too.
Either way, if your little ones aren't so keen on skiing or would rather do something else for the day, you don't have to miss out on your slope time.
There are also available babysitting services for the evenings if you want to head out for a meal, such as our Monty's Pyjama Patrol (child and baby listening service).
There are several ski schools dedicated to children with English speaking instructors. So you can leave them in the capable hands of the instructors while you do your own thing. We use Ecole de Ski 360 Ski School.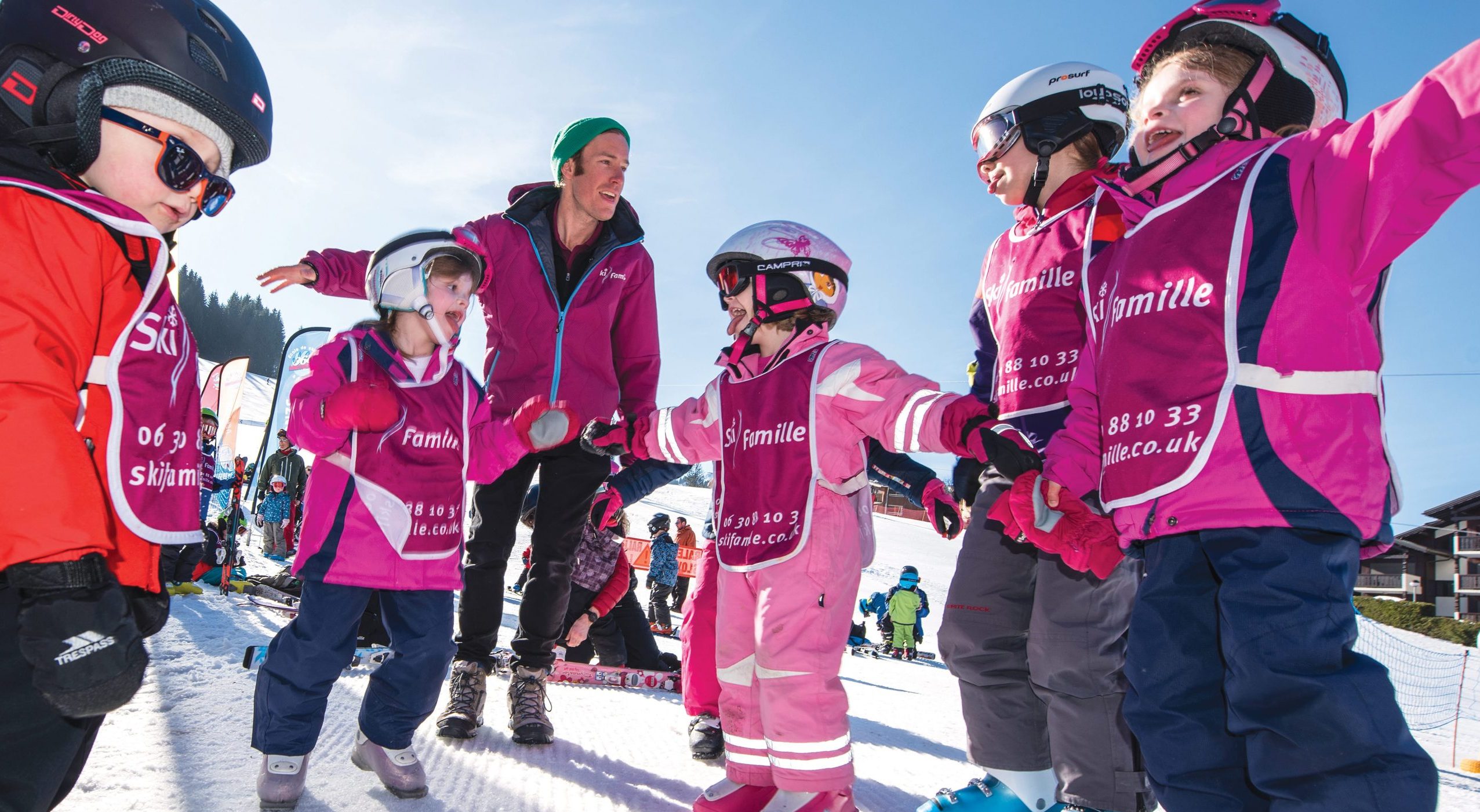 Slopes
When the weather is good, be sure to head up to the top of Ranfolly for great views of Morzine and Mont Blanc.
But if visibility is bad, it's often better to stick to the lower areas and the many tree-lined runs.
Beginners and kids can practice on the nursery slopes located conveniently near the village centre.
However, there are also some gentler runs higher up, offering relaxed skiing with accompanying stunning views.
Mappy's area consists of four connected slopes set apart from the ski area and is designed for beginners, so it's a good place for some family fun. And if the adults are learning to ski too, join the YouCanSki programme, which has been designed as a cheaper, all-inclusive way to learn.
The Chavannes area is well suited to beginners, as it's where the ski schools have most of their early lessons.
You'll also find lots of gentle runs, as well as Les Indiens a kids totem pole park.
Intermediate skiers will love the challenging red slopes on the Mont Chery side, a great place to build technique on the quiet runs. You should also check out the Ranfolly Bowl where you will find rolling reds and blues that connect Les Gets with Morzine.
Advanced skiers should head to Mont Chery where there are a few black runs including Mouflons, a 1.23km piste that gets very steep. There are also some black runs from the top of Nyon, La Rosta and Chamossiere.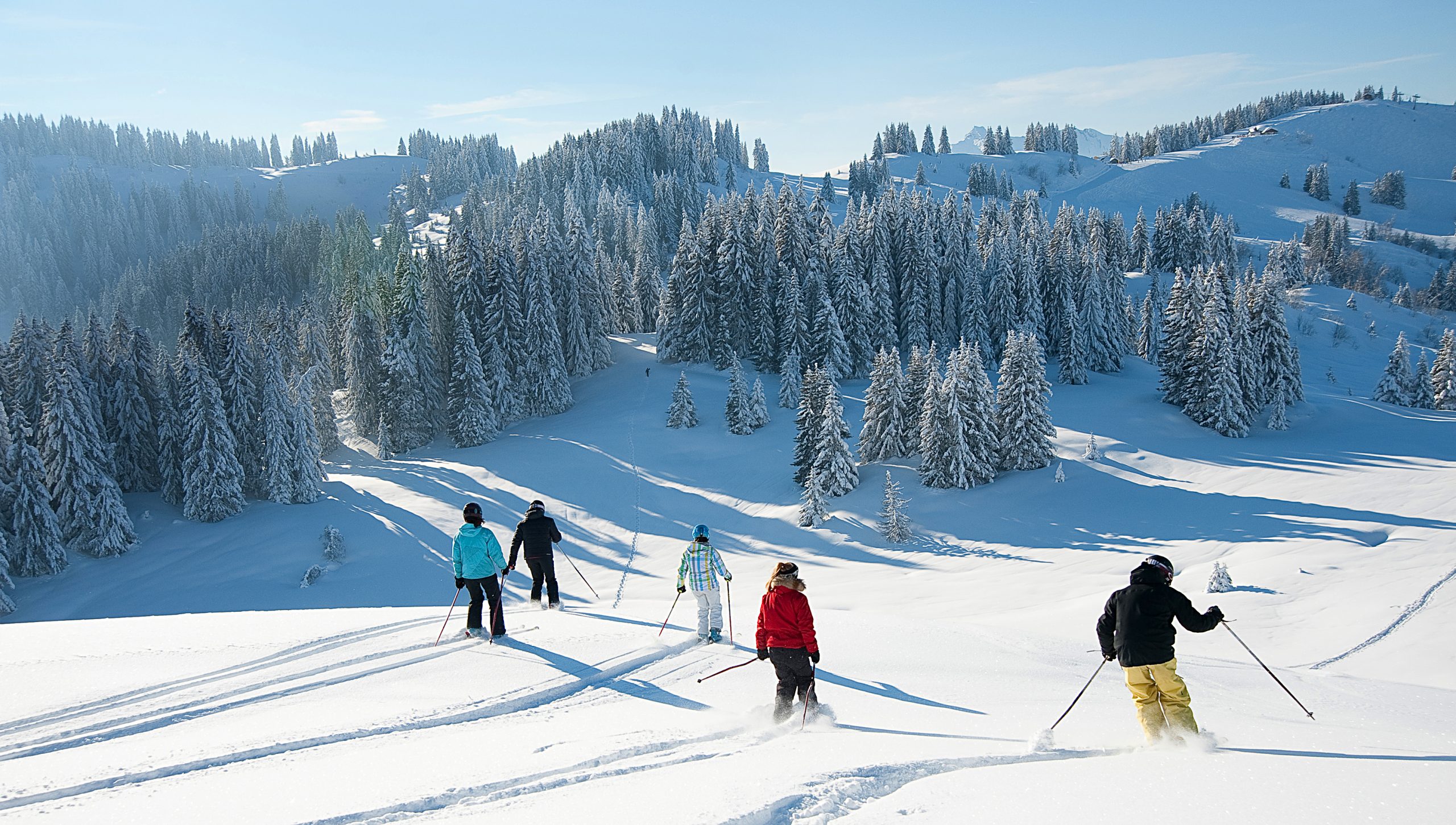 But as a family-oriented resort, the expert level skiing in Les Gets itself is a little limited, however, Portes du Soleil has more than got you covered.
As part of the wider Portes du Soleil you also have access to 300 slopes (more than 650km in total) and an incredible 30 snowparks.
If you fancy a change from Les Gets, then you can ski over to Morzine and walk across town to the Super Morzine Gondola to head to Avoriaz.
Alternatively, it is quicker to hop on one of the free buses in Les Gets to either Ardent or Prodains to access the Portes Du Soleil.
From Avoriaz you can make your way into Switzerland via the infamous Swiss Wall, or head the other direction to Chatel.
Although Les Gets is the furthest of the Portes du Soleil villages from the Swiss border, it is well worth making your way over.
You can do a circuit from Avoriaz taking in the Swiss resorts of Les Crosets, Champoussin and Morgins before crossing back to France in Chatel from where you can head back to Avoriaz.
All of Ski Famille's chalets are in superb locations; being either ski-in-ski-out or a very short walk to the pistes or nearest lifts.
Parks
If you're looking for a little freestyle fun, then get yourself over to the snowpark on the Chavannes side.
You'll find kickers, rails and boxes aimed at beginner and intermediate freestylers. It's accessible via the Mouille au Roi drag lift. There is also a boardercross track on which the British team used to train.
But proper park rats should head over to Avoriaz which has a reputation for some of the best freestyle areas in France. This includes advanced and pro lines, a halfpipe, slopestyle and features suitable for all level of skier or snowboarder.
From Avoriaz you can also access The Stash, a fun zone with nature-inspired features through the trees which CNN once described as "the best ski run in the world".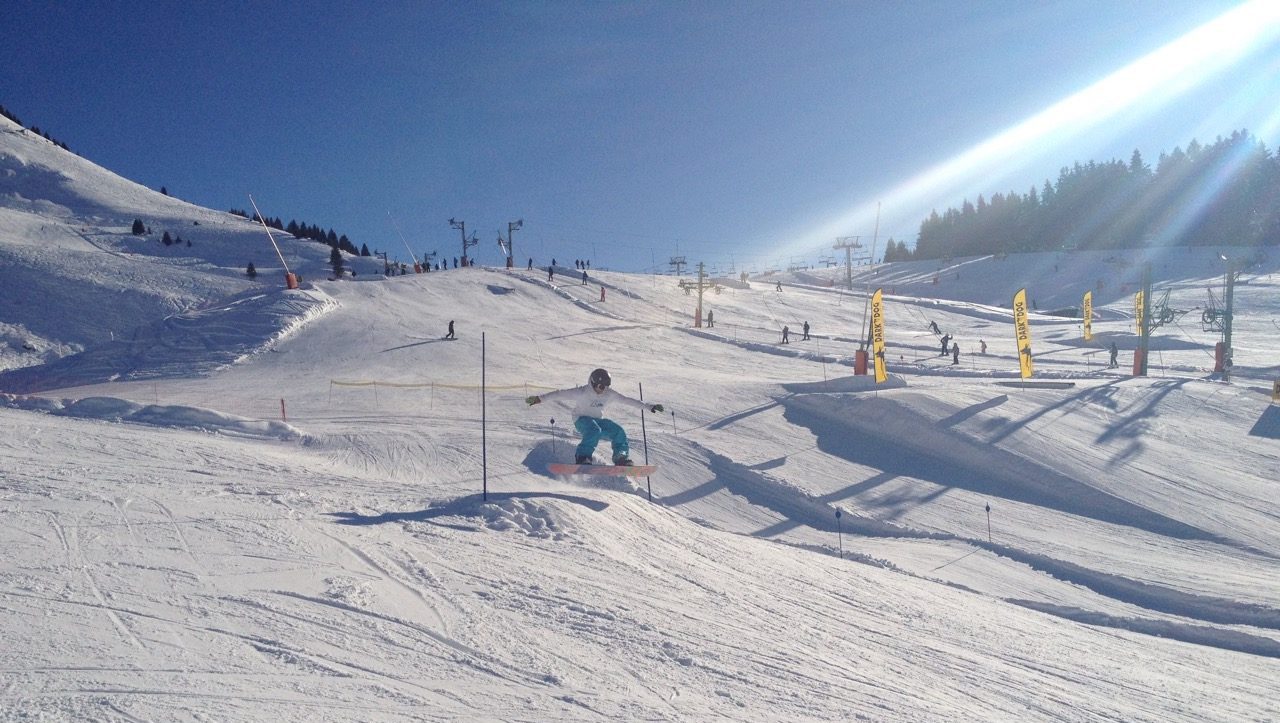 Pointe de Nyon Snow Park
Off-piste
Within the Les Gets ski area there is a dedicated freeride zone between the peaks of Nyon and Chamossiere.
From the top of both you'll find some both excellent views and in the right conditions spectacular off-piste terrain.
At the other end of the ski area, Mont Chery is especially good after a heavy snowfall when you'll find some awesome powder through the trees.
Of course the wider Portes du Soleil again offers way more than Les Gets alone.
The backcountry route into Vallee De La Manche is a huge favourite, as are the couloirs near the Swiss Wall.
With a short walk, many of the peaks are accessible to skiers and snowboarders with backcountry options aplenty.
As with any off-piste you need local knowledge, all the gear and to know how to use it. So it is best to book a guide or get yourself on one of the many freeride courses.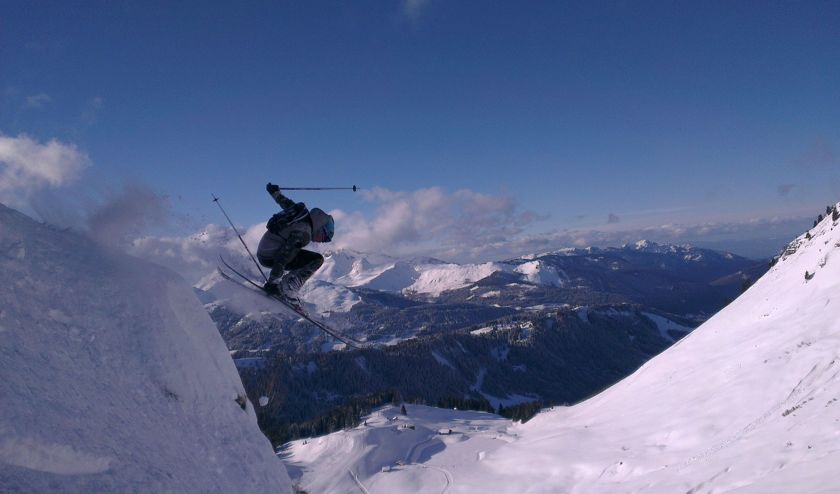 Eating out
The residents of Les Gets are very proud of their Savoyard heritage, and you'll find a lot of it on offer in the bars and restaurants around the village.
This means you should expect to see lots of tartiflette, fondue and cured meats.
But don't worry if you or the kids prefer your food a little simpler – you can find plenty of that too.
There are eating options for most tastes and budgets, and the majority of restaurants have kids' menus too.
Because of the family atmosphere, most of the bars, cafes and eateries will be bustling early evening.
And things usually quieten down after this, as the resort is not famed for its nightlife.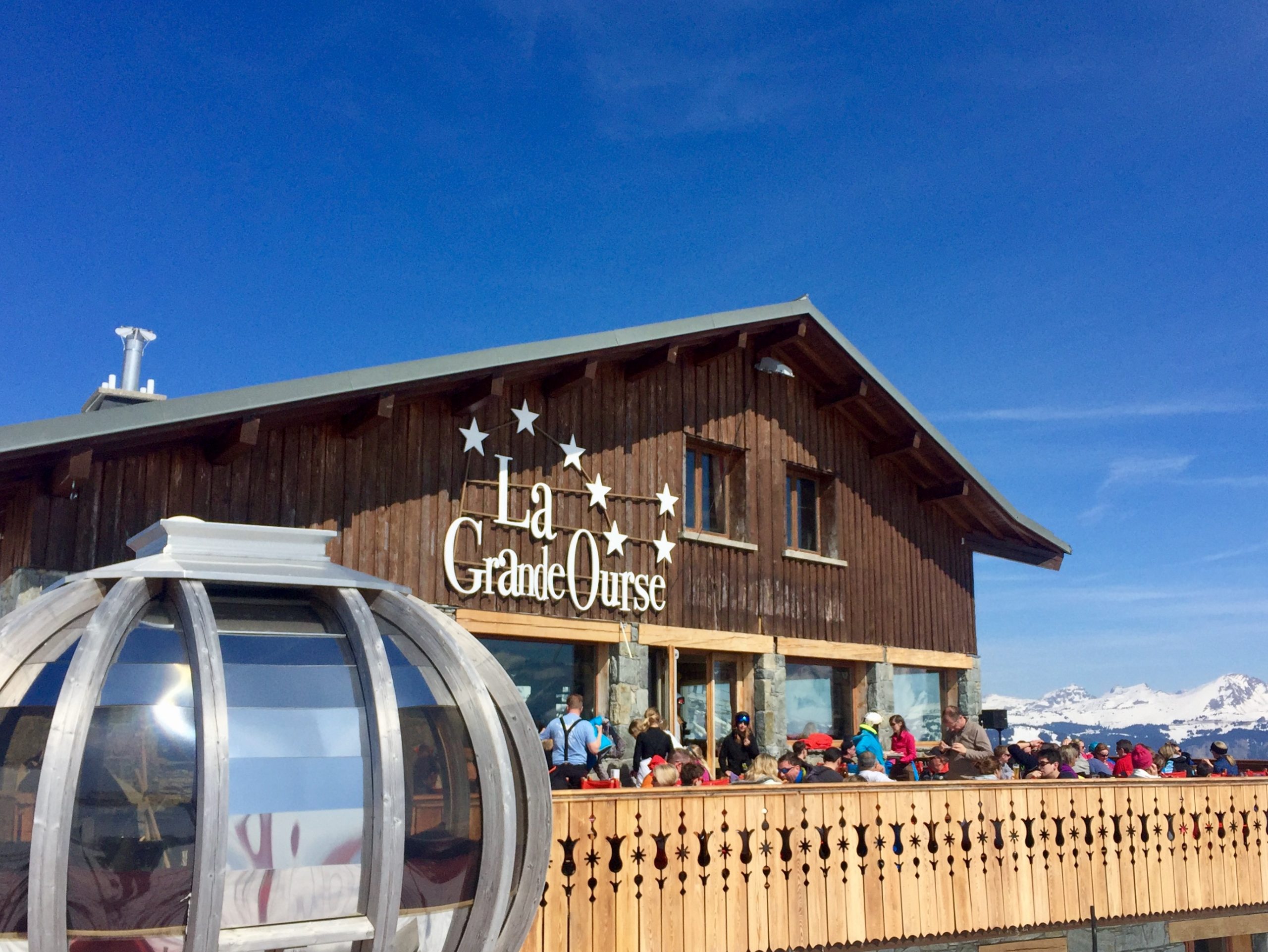 Some of the best eating options include Le Bacchus.
As a wine bar with a choice of more than 200 tipples accompanied by delicious tapas, this is one probably more suited to the grown-ups than the kids.
If big portions and barbecue flavours are your thing, then try out Le Paika, located in the Perrieres area above Les Gets.
This is a great 'lunch stop' to break up your skiing and gives your legs a well-deserved rest. Our chalets will take care of serving breakfast, preparing afternoon tea and a delicious 3-course dinner each day. 
Another cosy option is the Fruitiere des Perrieres, with its log burning fires and big wooden tables. It's a must for cheese lovers, as it's located right opposite the region's most famous fromagerie with 100-year-old cheeses maturing in its cellars.
Remember Ski Famille staff day off is on Wednesday which gives you a chance to enjoy an evening experiencing what the local restaurants have to offer.
Other information
The chair lifts are generally very convenient, and you won't find the long, snaking queues you might see at other resorts. And the slopes are generally less crowded too. It can get a little busy at weekends, thanks to its accessibility, but on the whole it is more pleasant for families than some of the busier resorts.
While Les Gets is a fantastic family resort, there's also plenty for adults to do too.
Cheese lovers can take a dairy tour and find out how the local variety is made.
You can also go ski jeering, which is being towed on skis behind a horse, and even the kids can join in this one if they are over the age of five.
But if you really want to get away from the little ones for a little bit and enjoy a bit of grown-up time, why not try a pampering spa treatment in the Sereni Cimes Spa?
Les Gets is also forging a reputation as an eco-friendly ski resort, with an emphasis on low emissions and recycling.
It is one of the first ski resorts in the world with electric car charging points and ski pass reductions available for their owners.
This is very much in keeping with Les Gets' reputation as a family-friendly resort, looking after the future of the mountains for generations to come.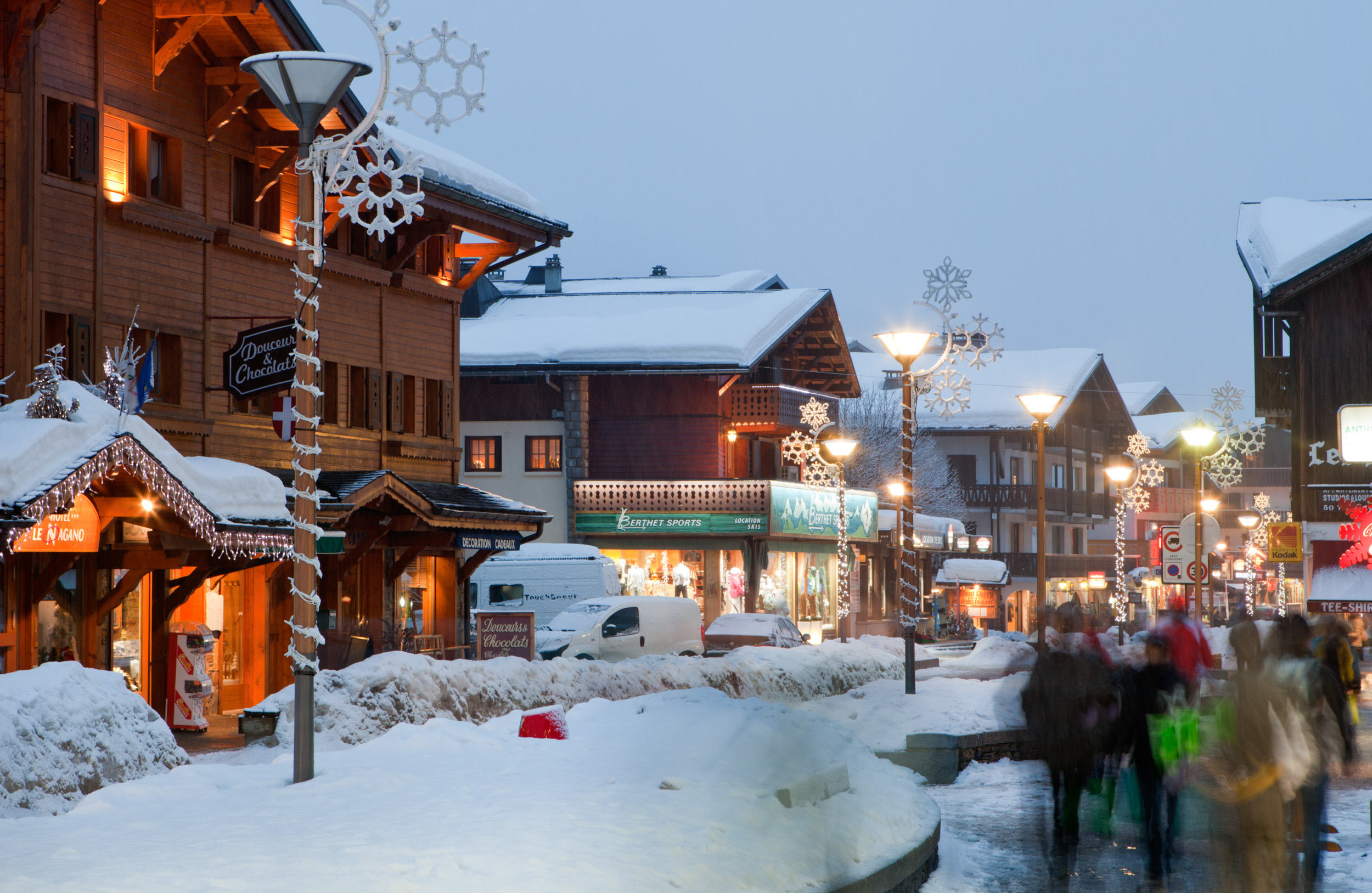 Les Gets Ski Colour is another popular family event. It was operated for the first time a few years ago and proved to be a huge hit with the younger generations.
It takes place in March and involves a whole load of non-nasty colourful powders being thrown around as you ski.
And don't worry about the kids' clothes being ruined, as protective clothing is provided and it washes out.
With a huge choice of skiing for all levels, dedicated kids ski schools, good accommodation options and plenty of family activities to try, Les Gets is one of the best family ski resorts in the Alps.
And with good childcare options and the vast Portes du Soleil on the doorstep, if you feel like breaking away for some grown-up fun then that's a real possibility too.
Below is a preview of three of our newest chalet additions to our programme in Les Gets.
If you'd like to enquire about our Les Gets chalets, please email holidays@skifamille.co.uk or call 01252 365 495.
Chalet Les Chats Bleus
Beautiful design with a practical family-friendly layout. Chalet Les Chats Bleus is a special and truly luxurious family chalet and a worthy recipient of our Premier Select rating. Located in a peaceful, elevated position with stunning views over the village and Mont Chery.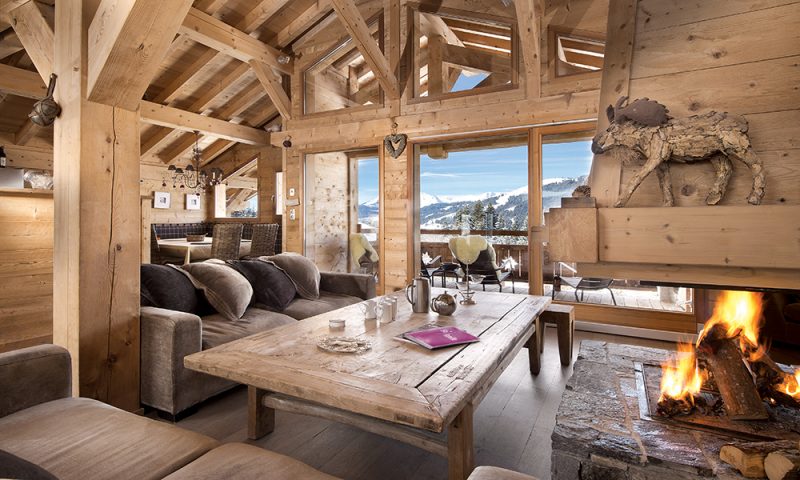 Chalet Cocon des Neiges
A stunning new chalet joins our portfolio. Designed to our own specification, the elegant Chalet Cocon des Neiges offers a choice of family suites and contemporary living and a large playroom. Located just a short walk from the charming village centre and close to the Mont Chéry ski lifts.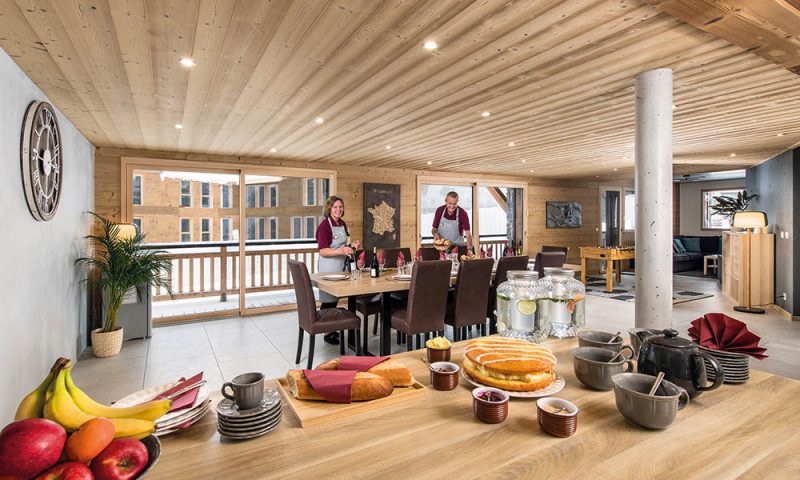 Chalet Monet
Chalet Monet was new to our Les Gets programme for 2018/19. Already a popular chalet for families visiting in Les Gets, we have worked with the owner to incorporate family suites into the design and ensure it is 100% Ski Famille family focussed!