Posted by

sf-admin on

Last Updated 23rd October 2019 at 12:35 pm

Here at Ski Famille, one thing we are very proud of is our renowned in-chalet childcare. For any of you who are new to the Ski Famille programme and wondering what we mean by this phrase, we are here to clarify and – more importantly – explain why it works so well!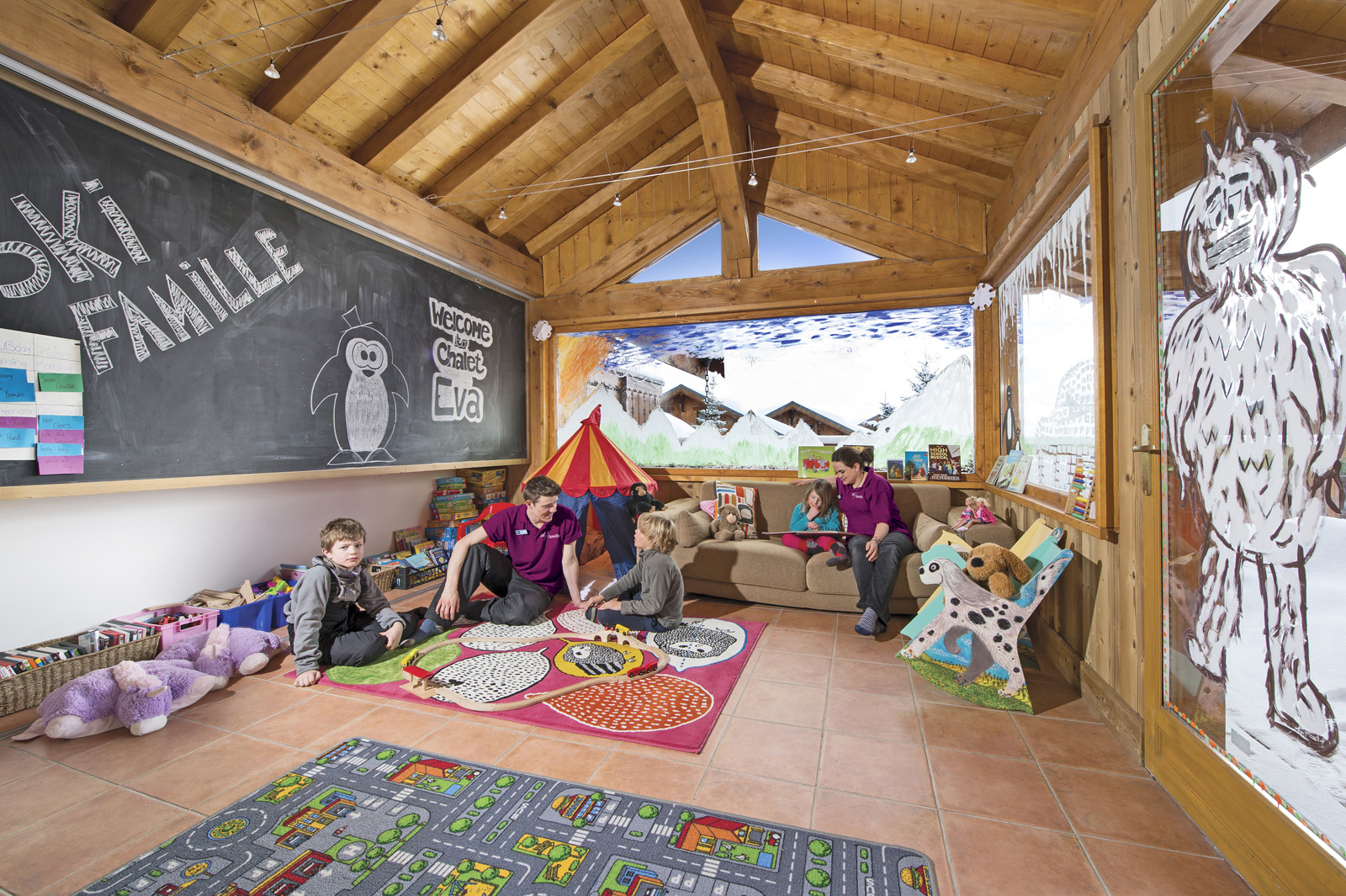 Chalet Eva Playroom
Forget the Early Morning Snowy Trudge to a Centralised Crèche!
As part of our À La Carte Childcare, our nannies and carers join your children in the comfort of your chalet's dedicated and well-stocked playroom. Your children can make full use of your spacious accommodation's playroom facilities, however they will not be confined to the playroom alone; our childcare team encourages outdoor play too.
Week after week, we receive rave reviews from you on this concept. Many of the comments praise the 'relaxed home-from-home atmosphere' that this unique approach creates and how it puts both parents and children immediately at ease. Besides that, there's no snowy trudge to a centralised crèche in the morning, allowing you to be among the first to experience the fresh, untouched powder.
Around a third of our child guests are three or under, and we are proud to offer our Mini Marmots all-day childcare (six days a week) to children aged four months to four years. Our caring and enthusiastic nannies provide safe, stimulating fun in and around your chalet from nine to five in the evening (including a break for a supervised lunch). Available for £399 per child per week.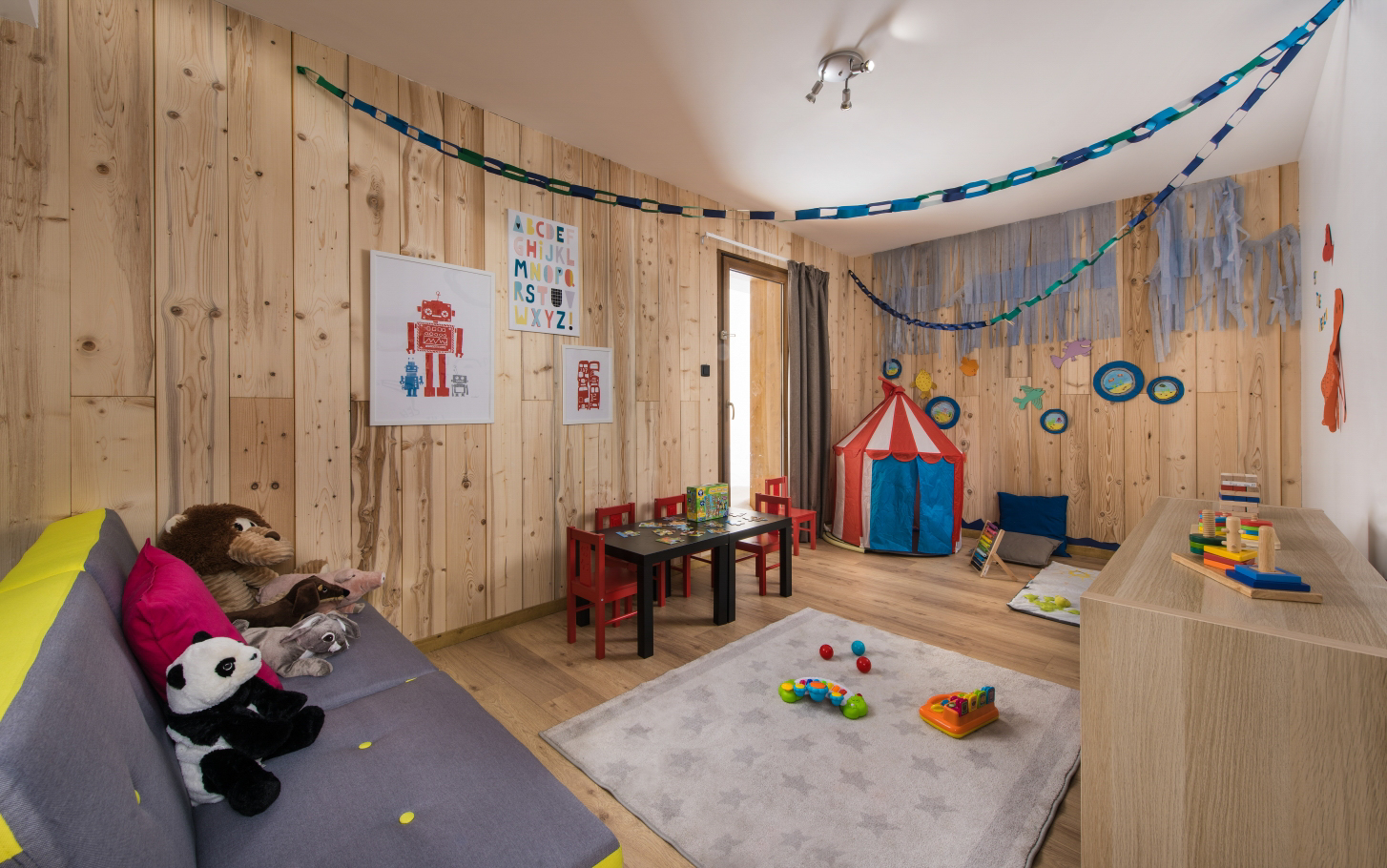 Chalet Aigle Playroom
All 16 of our chalets receive superb feedback on their playrooms, with Chalet Nicole in particular being a hit with many families. Here's what some of our previous guests have written about their experience:
– Fantastic set up in chalet Nicole with the playroom next to the social area. The Nannys were all excellent. Say Family, January 2018, Chalet Nicole
– The Nannies were absolutely brilliant and I loved how much the children got out and about – perfect for my very active 2 year old. My 6 year old had a morning with the Nannies in the playroom and she had a fantastic time too. Sawle Family, February 2018, Chalet Nicole
– Feeling sad to be home after an amazing week in Chalet Nicole. Similar to most parents we were concerned about the childcare but we needn't have worried: our kids seemed to love every minute and had so much fun with the nannies and in the playroom that they were delighted to ditch us at the earliest opportunity. Embrey Family, February 2017, Chalet Nicole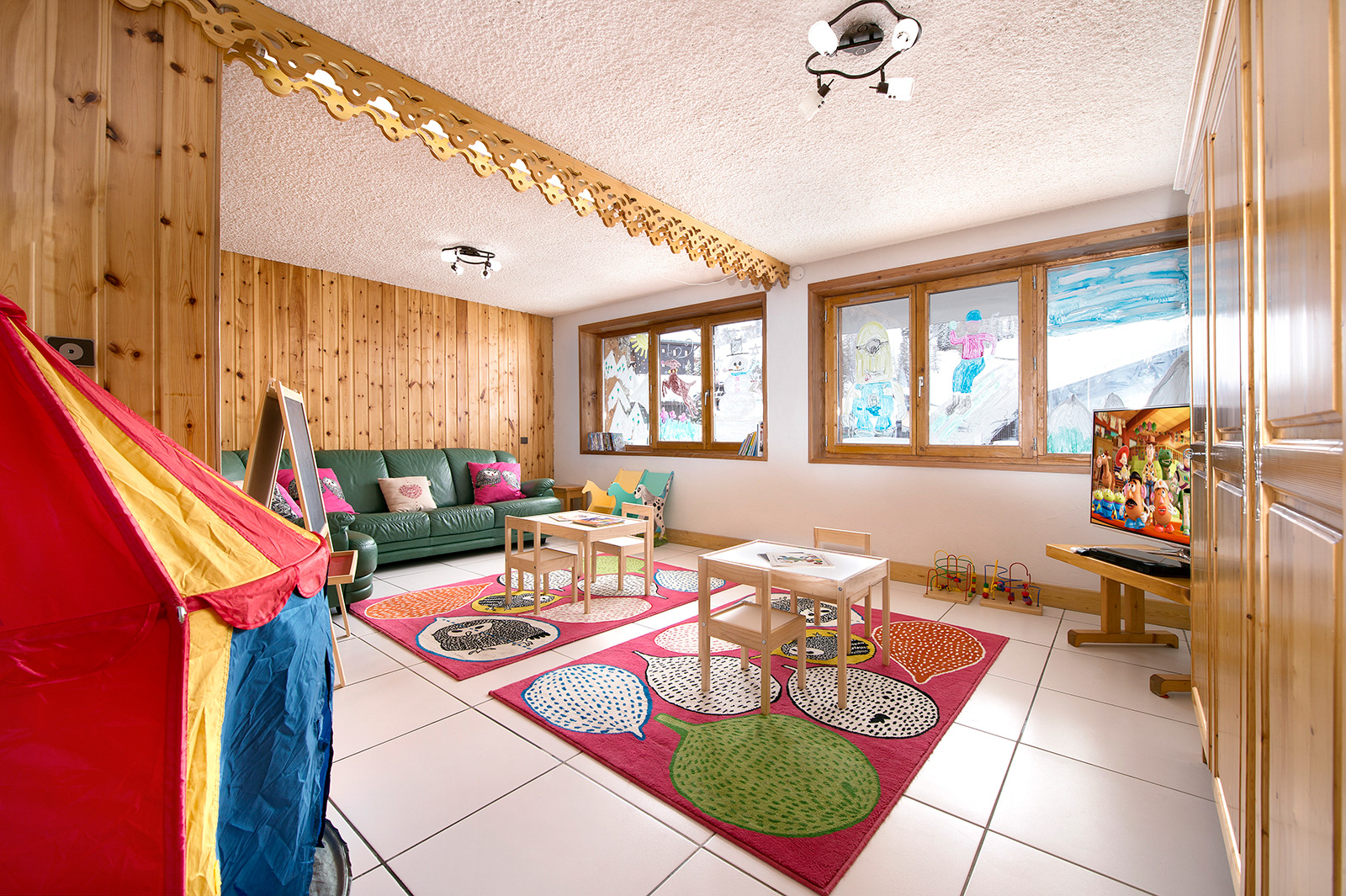 Chalet Nicole Playroom
New and Improved Playrooms
Chalet Monet:
We are always on the lookout for new chalets and ways to upgrade our existing properties.
Last season saw us take on a new chalet in Les Gets. Sleeping up to 22, Chalet Monet sits in the heart of Les Gets and has a bright, spacious playroom amongst other family-friendly amenities such as family suites, a large living room, a large hot tub on the terrace, and a sauna for aprés-ski recuperation.
Many Chalet Monet guests have commented on the exceptional childcare, with comments such as:
– The service from the childcare team was exceptional and a real asset for the company. A special mention to Maddie, Eileen, Chris and Hannah. Their care, attention and enthusiasm were evident and I felt my children were in great hands." Peters Family, January 2019, Chalet Monet
– Friendly, helpful and competent too. Huskinson Family, February 2019, Chalet Monet
– Friendly and accommodating. Pierce Family, January 2019, Chalet Monet
– Loving and caring. Extremely professional. Woolf Family, January 2019, Chalet Monet
– Wonderful team. Very dedicated and professional. McVay Family, January 2019, Chalet Monet
– The childcare team were amazing. Wan Family, February 2019, Chalet Monet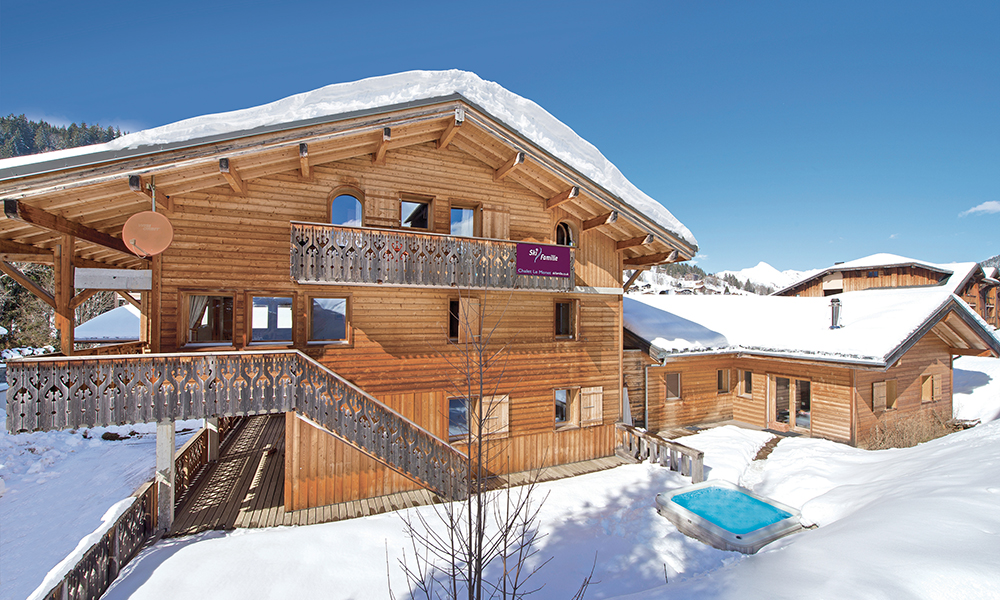 Spacious, New Chalet Monet
Chalet Katie 1 and Chalet Katie 2:
Last season we have introduced a new, extended playroom in chalets Katie 1 and Katie 2. The chalets are positioned next to each other and are right by the famous Three Valleys pistes in Reberty 2000. The chalets are all about location; they are perfect for those who love their skiing with instant access to both the slopes and ski school meeting point. It's not just the snowy trudge to a centralised crèche that you don't need to worry about, you can also forget about carrying your bulky skis up to the slopes in stiff ski boots!
Chalets Katie 1 and Katie 2 now have a large playroom that spans across most of the shared ground floor. For any 'Ski Famille regulars', you may remember this is where the shared indoor hot tub once was. All our other chalets have outdoor hot tubs (often with beautiful views too), and due to the fantastic feedback we've received, we've chosen to give both Chalet Katie 1 and Katie 2 their own individual hot tubs outside on their sunny terraces. This has also created more space on the ground level, allowing us to expand this shared playroom area.
Here's what some of our guests wrote in their reviews:
– Ski Famille was the best childcare we have experienced. Lovely playroom, not overcrowded and with lots of natural light. Anna Wyse, December 2018, Chalet Katie 1
– Loved the light, bright playroom. Meghan and Leonie were fantastic. Caroline Harvey, January 2019, Chalet Katie 1
– Great company for travelling with children, very accommodating and chilled out about frantic kids running around the house. Having the playroom in the chalet was very convenient. Sergiusz Bleja, March 2018, Chalet Katie 2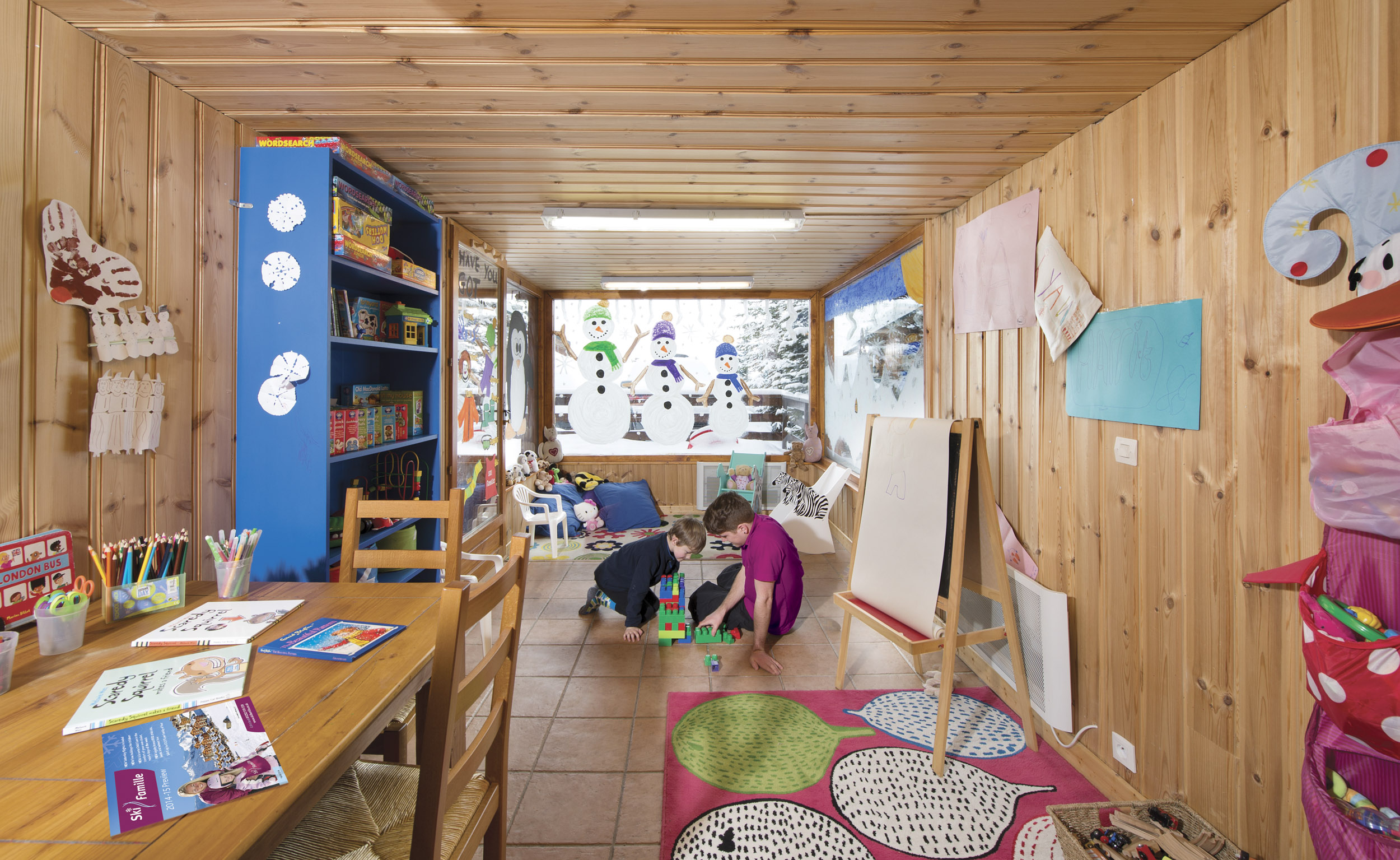 Chalet Katie 1 & 2 Playroom
Chalet Marjorie:
Two seasons ago we refurbished and redesigned many of the communal areas in Chalet Marjorie (Les Gets). The playroom was expanded and so too was the stylish dining area that now leads onto a stunning terrace with its own hot tub.
Since the redesign, many guests have commented on how well the chalet layout works for families. Returning guests to Chalet Marjorie have echoed this, particularly highlighting the improved playroom and spacious dining area.
– Chalet Marjorie was really well set up for children. Plenty of space and perfect playroom. Bennett Family, February 2019, Chalet Marjorie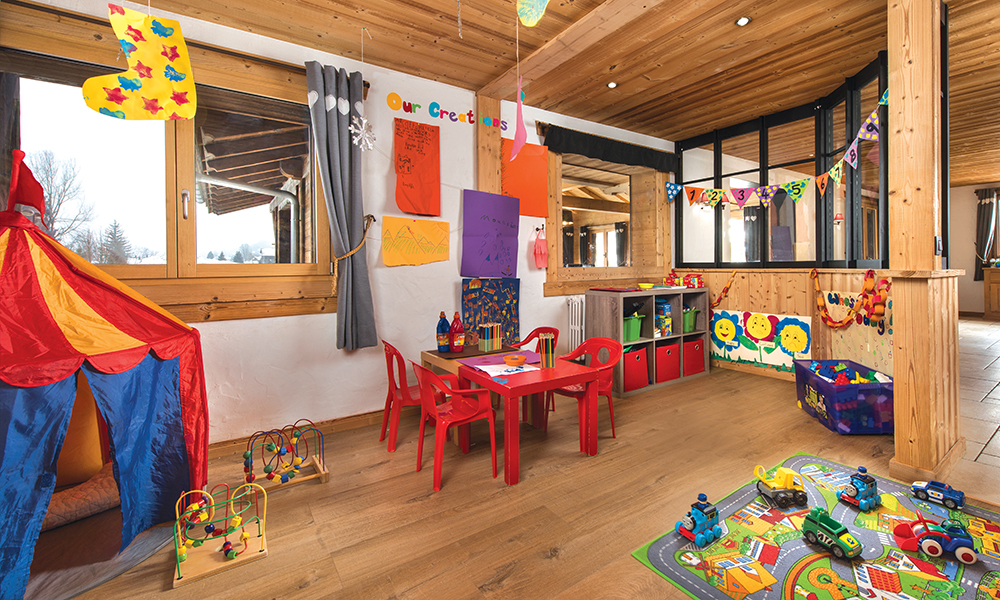 Children Marjorie Playroom
Chalet Aigrette and Chalet Corbeau:
Two seasons ago, we acquired two new luxury chalets in a new resort. We welcomed Chalet Aigrette and Corbeau in Les Bruyères (3 Valleys) to our ever-growing programme. The two chalets are virtually mirror images of one another and became part of our new 'Premier Select Plus' category. Since then we've brought in two more new Les Bruyères chalets – also in this category – Chalet Aigle and Faucon. All of our Les Bruyères chalets are close to the slopes, with Aigle and Faucon being completely ski-in-ski-out!
Aigrette and Corbeau took to our programme brilliantly; receiving excellent feedback during their debut season and well-worthy of their Premier Select Plus chalet class. Having said that, we were never satisfied; even if our guests were! Over the summer months that followed, we were constantly striving to find new, exciting ways to improve the chalets (as we always are!). Following a process of thoroughly scrutinising the two chalets, we decided to move their individual playrooms onto each chalet's ground floor. Situated just off each kitchen, children booked into childcare were closer to their supervised lunch and didn't have any stairs to manage during the day. Since moving these playrooms they've been even more safe, convenient, and well-located!
Below are some fabulous reviews from our previous guests in the two chalets:
– This is our third holiday with Ski Famille and once again I cannot fault the nannies. Such kind and professional people who cared for our children very well. The children were all happy and very much enjoyed their time with them. They gave us no worries and made us feel like we could get on with enjoying full days skiing without compromising the children. I cannot praise them enough. James Family, January 2019, Chalet Corbeau
– Really pleased overall & loved the number of outdoor activities my daughter did. Milner Family, January 2019, Chalet Corbeau
– Childcare was great, felt comfortable leaving my kids with the nannies. Feltham Family, February 2019, Chalet Aigrette
– We had 3 babies in our chalet and 3 nannies – perfect peace of mind. Allen Family, January 2019, Chalet Aigrette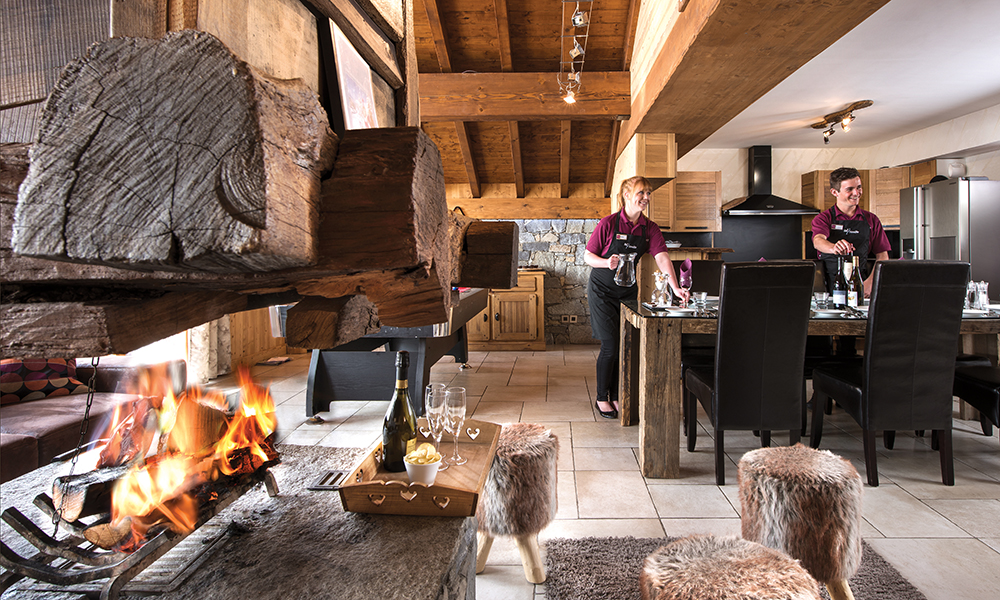 Chalet Aigrette Interior
Whichever chalet you choose to stay in, we are confident little ones will love their playroom and mountain experiences. You can feel secure in the knowledge that family ski holidays with Ski Famille can provide safe childcare in the hands of our passionate team of nannies and carers.
If you have any questions relating to our chalet playrooms, childcare, or anything else, our friendly team are on hand to help. Call Jack, Michayla, Angela or Sheila on 01252 365 495.