Posted by

sf-admin on

Last Updated 14th November 2018 at 1:23 pm

For our keen admirers who regularly keep a close eye on our blog page, you may have read about our new partner, Dinoski.

For those not so familiar with Dinoski, their all-in-one animal-themed ski suits are waterproof, breathable, warm and machine-washable. Perfect for use while out in our resorts or preparing for those bristling school runs in the depths of winter.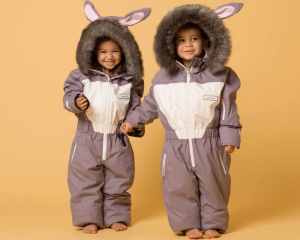 Now we bring you an exciting update from them!
Dinoski will be touring the Alps on an American school bus. An American bus in the French Alps might sound a little unusual, but this isn't just any old bus…
The vehicle has been converted into a mobile shop which will stock their animal-themed ski suits!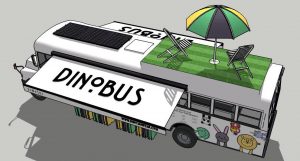 The tour is set to be documented as a Vlog series on social media and we've heard rumours that discussions are underway with a major broadcaster for a potential television series. Dinoski cannot reveal which broadcaster it is, but we'll update you as soon as the announcement goes public. However, we can provide you with this summary:
"The adventures of three 'snow-preneurs', navigating a renovated school bus / pop-up shop across the French Alps in attempt to create the world's most famous skiwear brand"
"A behind-the-scenes insight into the stresses of launching a new business, coupled with the adventurous excitement of a road trip and set against a spectacular alpine backdrop"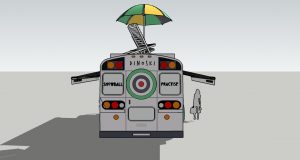 The bus will double as a mobile shop and will be equipped with clothes rails, roof terrace, solar panels, snowball targets, living room and 4 beds.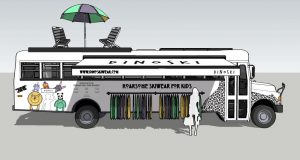 On board this exciting excursion (nicknamed 'The Roarsome Tour') you will meet our three travellers: Ed, Matt, and Will. Here's what they'll be doing on the trip:
Ed Lewis Pratt – Ed will be taking on the role of 'Head of Adventures', he's in charge of the operations. In his own words, he says he will 'look over the team like a wise old owl' and all of the team's logistics will be masterminded by him.
Matt Martin – Matt will be the Zoo Chief. His prior experience with running a ski brand makes him the point of contact for both production and sales. He also holds an HGV license which gives him the pleasure of being the designated driver for the whole tour.
Will Chapman – Nicknamed the 'King of the Wild,' Will handles the design and brings the creative flair to the team. Will can often be found crafting something on his MacBook. Directing the brand vision, every Dinoski suit will have been sketched by his own suspiciously feminine hand.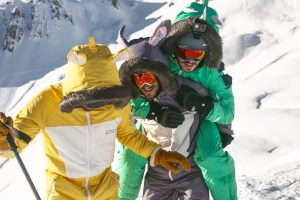 The bus has recently made its way from America to the UK. Now Dinoski is shifting their focus on converting the bright yellow vehicle into a mobile pop-up shop which will double up as their home!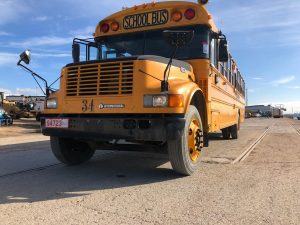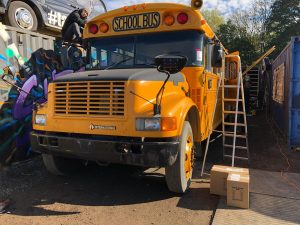 The bus will be stopping at a long list of resorts (including our very own resort of La Plagne) between 11th February to 25th February. Keep an eye on their journey through The Dino Bus Instagram page with plenty of videos and photos to come throughout the tour.