Posted by

sf-admin on

Last Updated 20th November 2019 at 1:42 pm

Skiing with children, particularly if they are very young, can feel rather daunting.

You dream of being able to enjoy a fantastic family skiing holiday and imagine you and your partner whizzing down picturesque snow-covered pistes. If your children are novice skiers, or too young to ski at all, the logistics of doing this may make the dream seem hard to achieve. The good news is…
A skiing holiday with young children can be done!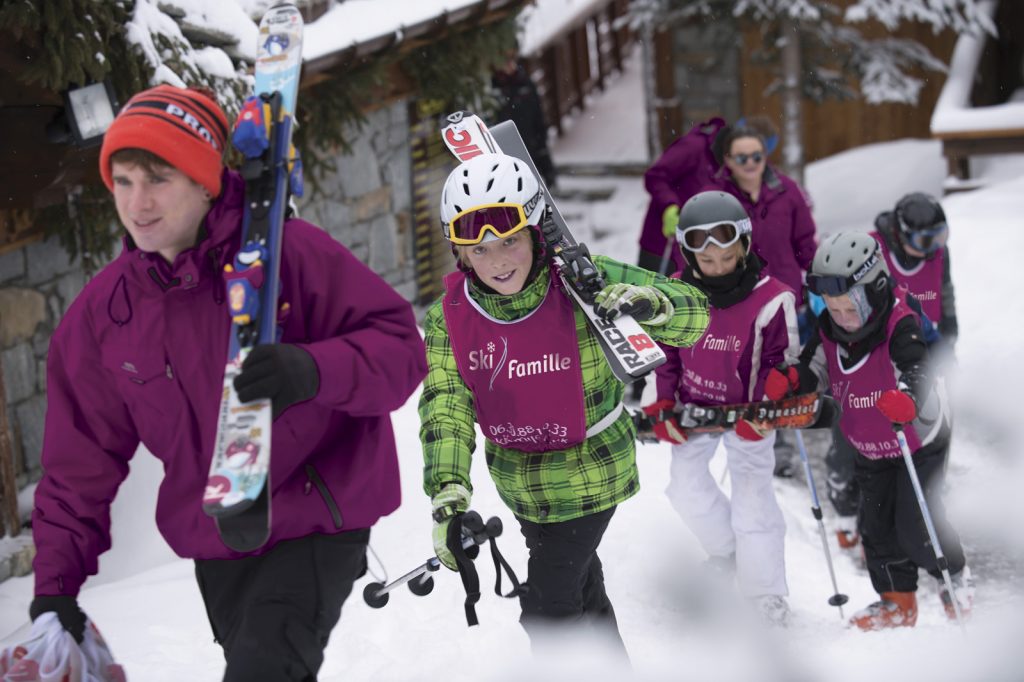 Here at Ski Famille we believe a skiing holiday with children, whatever their age, is a fantastic family adventure! We do everything possible to ensure that not only can adults enjoy as much piste time as they want, but children will be well looked after, entertained and have a thoroughly enjoyable holiday. Taking your child skiing can easily be done without any compromises on your holiday. But how?
À La Carte Childcare
Our passionate childcare team aim to put both you and your child at ease. Our aim is to allow every one of our guests to fully relax during their holiday and believe the secret recipe comes down to our well-regarded childcare (if we may say so ourselves). We've looked after many smiling babies (plus happy parents!) and believe we know the perfect formula for a great time in the mountains with your little one.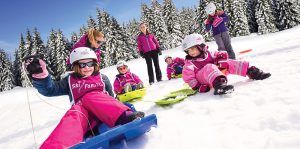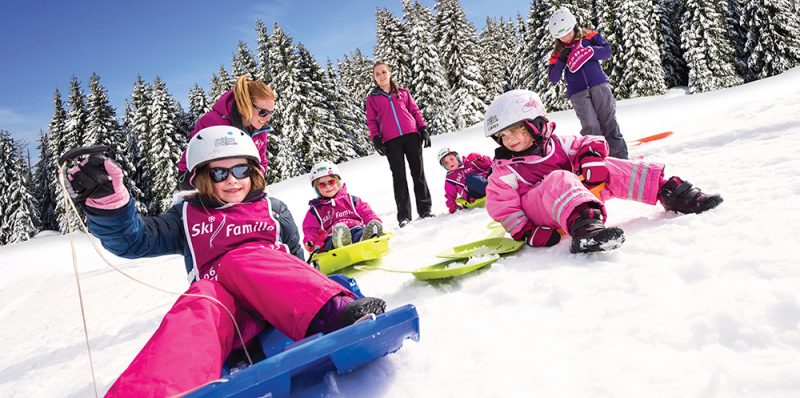 Our optional childcare is split into two parts:
Mini Marmots
Mountain Marmots 
Mini Marmots (4 months – 4 years)
If your child or infant is too young to ski, our well-equipped playrooms will keep your little one both entertained and stimulated. Our professional nannies and carers will come to your chalet's dedicated playroom to look after your child in your absence. This gives you the opportunity to ski with your partner knowing your children are in safe hands.
Mountain Marmots (3 years – 12 years)
Our Mountain Marmots childcare involves taking your children to ski school as well as by bringing them back to your chalet. Just like our Mini Marmots service, you are not required to be with your child on their walk to and from ski school (or during their lesson), allowing you to enjoy the slopes child-free and worry-free!
Family Focussed Accommodation
Staying in a chalet is not too different from your home; except you're in and around snow!
All of our chalets have layouts that have been engineered around the needs of families and most have been built to our design. You will have your own private areas (normally a family suite) as well as shared communal spaces such as the lounge and dining area. Cots can be fitted in most rooms too. We find that guests adjust to chalet life quickly as it provides a relaxing environment for adults and a layout that children are familiar with. All of your home comforts will be in your chalet as well as those added features such as a hot tub, or a cinema room or games room for your children (depending on your chalet of choice). Enjoy hassle-free care in a home from home environment!
We have chosen our chalets for their great locations. Our properties are in family-friendly locations, with many being a short walk to ski school – and some being ski-in-ski-out too!