Posted by

sf-admin on

Last Updated 8th October 2018 at 12:19 pm
Five useful travel tips to keep your children happy and entertained on your way to the Alps.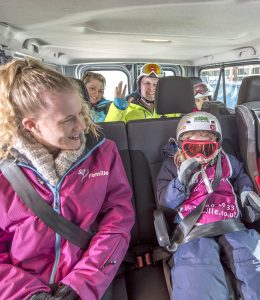 When setting off on your next family skiing holiday with your children, the last thing you want is for any part of your journey to be more stressful than it needs to be. Travelling with children can, on occasion, be difficult, especially when the little ones are excited about hitting the slopes!
Without some thought about how to keep your family entertained and happy on your journey to the Alps, what should be a relaxing and enjoyable start to your holiday can quickly take a turn for the worse!
Making sure you have snacks, games and gadgets to keep your children comfortable and entertained during your flight is a great start. However, if you want to be in the running for 'mum of the year' (and who doesn't?!) we have scoured the Internet and found some smart and useful products that will make travelling with young children easier.
Elastic laces are fantastic fun for children and very useful in airports too. If your children are asked to take their shoes off to go through airport security, instead of having to undo their shoelaces, the give in elastic laces will allow them to slip easily on and off.
Elastic laces are also ideal when getting ready to explore your resort after a day out on the slopes. Put them on boots and shoes to quickly and effortlessly get in and out of them. You'll be surprised how much time and stress you can save, especially with those thick winter socks on.
These markers are perfect for families with younger children and are bound to keep them busy on your flight, and your ski chalet too. While you may worry about your children making a mess with pens and crayons, these special little markers will only show up on the special paper they come with, and not on walls, rugs or anything else.
Because of this, you can leave your child happily drawing away without the worry that they will stain anything, meaning you can sit back and truly relax – go on, you deserve to!
Freezer bags are one of those simple little travel hacks that make such a difference when travelling with children. With limited hand luggage space, it can be tricky finding the perfect place to keep everything organised and readily available in your hand luggage.
Bring some freezer bags with you and you can simply divide everything up. This way it is easy to see everything that you have in your hand luggage and all your belongings stay separated so you can find what you are looking for in no time at all.
Top Tip: You can also store the family phones and tablets in freezer bags to stop them getting scratched and protect them against accidental drink spillages – we've all been there!
Custom wristbands are a clever accessory for peace of mind when out on the slopes with your children. You can customise your wristbands to include vital information such as your child's medical specifications, your contact number, and the name of your ski chalet.
Custom wristbands come in a variety of materials, but all are made to last so your child can wear one throughout your skiing holiday. They come in fun and funky colours too so your children will be more than happy to have them on!
It's not surprising that while juggling bags, boarding passes, and making sure everyone stays together; essential items can quickly get lost.
Be it phones and wallets, or your child's favourite cuddly toy, the Wallet TrackR means you will never have to worry about losing anything again.
This durable wireless device can be attached to any item that you frequently lose, and via the TrackR app, you can keep tabs on where your most valued items are. An in-built alert also means you are warned when walking away from beloved belongings, be it your favourite jumper, your phone, or, dare we say it, even your child!
£6.99 from expansys.com
With these five great tips to help you keep your children organised and entertained whilst travelling this season, you are sure to have an enjoyable journey, and ski holiday, when you arrive at your family ski chalet in the Alps.
Remember, the more prepared you are, the less stressful your journey will be, so keep these five travel tips in mind so that you can sit back, relax and get ready for some quality skiing on the slopes.
If you haven't booked a ski holiday with Ski Famille yet then we have some fantastic 
catered ski chalet offers
 on sale now from as little as 
£1,999
 for a family of four. Call our helpful team now on 
01252 365 495
 and we'll help you book the perfect ski holiday for your family this season.