Posted by

sf-admin on

Last Updated 21st May 2019 at 2:57 pm
What are 3G holidays?
3G holidays, or three-generation holidays, are trips where three different generations of the family go on holiday together. This typically consists of grandparents, parents and their children but might also include aunties, uncles and cousins. Bringing grandparents on family skiing holidays is a growing trend within the ski industry, with the experience already dubbed "granping" or "gramping". At Ski Famille we receive many bookings with at least one grandparent in the mix.
So why bring my grandparents along?
1. Precious family time
All of our chalets have dedicated hosts, meaning as parents there's no need to worry about your domestic routines or daily household chores. How does this sound?
No cooking
No cleaning
No emptying the dishwasher / washing up
No tidying
No weekly food shop
With chores and work-commitments fully out the way, it frees up precious family time for you to spend with your loved ones. After all, SKI means Spend your Kids Inheritance … but in the right way! A skiing holiday is sure to create many stories around the dinner table, as well as photos for the photo album, or memories for the memory book. One thing is for sure, your children won't stop talking about their holiday for months, or even years, to come.
Many 3G family holidays see Grandma or Grandpa as the 'designated babysitter' for the holiday. Remember, it's a holiday for your grandparents as well! Mixing our in-chalet childcare with the helping hand of a senior family figure allows your grandparents to have a relaxing break themselves without compromising precious time with your children. Each and every one of our nannies is highly enthusiastic, qualified and amazing with children.
2. Après ski for all
For any first-timers to the slopes, 'après' simply translates to 'after'. It refers to all of the activities skiers get up to in the afternoon and evenings once you've finished on the slopes. All of our resorts and chalets offer plenty of non-skiing activities. It's not just children who are easier to entertain when surrounded by snow!
Our chalets are equipped with guests of all ages in mind. Sometimes you just can't beat curling up by the fireplace with a book (or glass of wine) in hand. Our cinema rooms are also a "must use" for guests of all ages in the evenings.
Outside of our chalets, there's plenty of après skiing activities we highly recommend. Our resort of Les Gets recently featured in the Best Ski Resorts for Multi-Generational Family Holidays by The Telegraph.
Grandma or Grandpa may fancy spoiling your children with a hot chocolate from one of the many sun-kissed terraces found in all of our resorts. The swimming pool serving Les Bruyeres and Reberty2000 is a firm favourite amongst our younger guests, with the built-in spa being a popular choice for adults.
3. A chalet all to yourself?
Nothing beats dinner in your new chalet on the first night as you bond with like-minded families over a glass of wine. On the flipside, your very own chalet for the week can also be rather tempting. Sole-occupancy chalets are great options to bond with your family and fully embrace the "home-from-home" environment that our guests love. All of your home-comforts are waiting in your chalet, plus all of the extra amenities you typically won't find at home. Our smallest chalet, Chalet Petit Mouflon, sleeps 9 people and is ideal for a large group wanting a place to themselves. You'll just need to grab your 3G family and maybe get extended family or friends onboard too. This leads us on nicely to our next point – availability.
4. Availability
Organising anything in the Summer is a challenge. The Winter isn't. Families have more free time in Winter and it's easier to find a week to travel that suits everyone. The Christmas holidays, February Half Term and the Easter Break are the obvious options with children out of school plus many public holidays. We see a lot of families with pre-schoolers, babies and toddlers in January and March. These quieter periods are great value for large family groups.
5. Cuts the Costs
No need to worry about added supplement costs… the larger the family you bring, the better value your chalet becomes. Bringing grandparents along also means another adult on board and therefore another person to chip in towards the overall cost of your holiday. We offer discounted ski passes for 65-74 year olds, while over 75's ski for free. Free skiing has to be a target for us all to aspire to!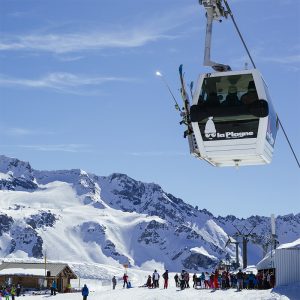 But my grandparents don't ski… What if they get bored?
We've explained that there is plenty to do for non-skiing grandparents, so grandparents that do ski definitely won't have to worry about getting bored!
Now what about your children? If your children are the type who want to try every activity under the sun, then a skiing holiday is certainly for them. We've highlighted plenty of après ski ideas already but as a tour operator that focuses solely on family skiing, all of our chalets are equipped for young children. Our chalets have games rooms, table football tables, pool tables, cinema rooms, playrooms, TV's, board games – you name it.
---
Our favourite rooms for Grandparents who want to come too!
Many of our rooms are family suites, but we have a number of doubles and twins (all ensuite) that work well for Grandparents or other family members.
Les Gets
Plagne 1800
Les Bruyeres (3 Valleys)
---
Please call our friendly team if you have a larger 3G family or have any general queries: 01252 365 495