Posted by

sf-admin on

Last Updated 12th August 2019 at 1:45 pm
Our Story…
Family suites are a cornerstone of the Ski Famille chalet programme. All of our family chalets have at least two family suites and some have all-suite layouts. But for the uninitiated … what are they and what makes them so good?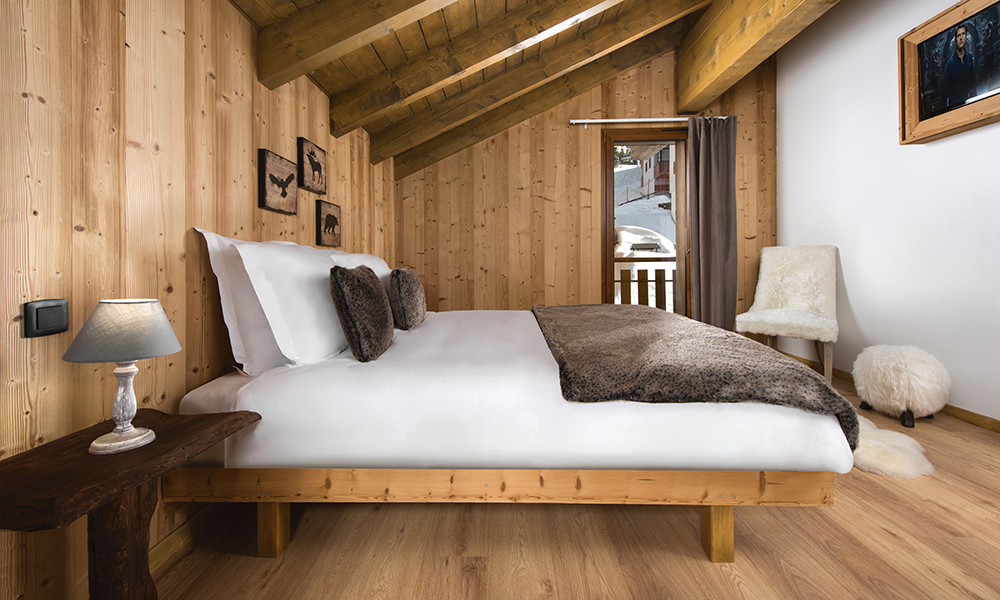 Contemporary bedroom
The opportunity to create family suites first came about in 2006 when we were approached by the owner of Chalet Le Marjorie in Les Gets. At the time the building was laid out as six self-catering apartments. Bar one or two walls that had to be retained, we were presented with a blank canvas upon which to create a brand new chalet sleeping up to 22 guests. Our existing chalets at the time had quite a mix of rooms for families. Most (although not all) were en-suite, but families needed to either share an open plan family room or book a double and a twin next to each other.
We knew that both options were, for many families, a compromise. Few of us share a room with children at home and the prospect of doing so on holiday isn't always an appealing one! On the flip side it is nice to have children nearby and easily accessible when staying in an unfamiliar property. The solution was obvious; a parent's bedroom, a separate children's bedroom and a nice bathroom all rolled up together in a cosy package behind one door. We set to work with Cedric, the owner of Le Marjorie, and created a great layout with four spacious family suites plus one triple and a twin. Le Marjorie is still an important part of our Les Gets programme and is as popular as ever. The chalet now includes an improved and expanded dining area, playroom and a new terrace with hot tub. The exterior has also been updated and there is a new high tech heating and hot water system.
The family suite concept has gone from strength to strength since that first project and, of the sixteen chalets we offer this season, nine were built – or like Marjorie completely rebuilt – to our family focused designs. The other six have all seen extensive modifications to allow the creation of family suites and, just as importantly, dedicated playrooms. We've looked at dozens of potential chalets and building plots over the years, but if there isn't the scope to make a property properly work for families we walk away. The ability to create family suites is absolutely crucial to this process; it is clearly the type of room that families want to book.
Chalets generally don't have many identical rooms and inevitably some of the suites we have created with chalet owners have become real favourites.
Our Top 5 Family Suites
The Mouflon chalets are located in the La Turche area of Les Gets. We worked with the owner and his architect to create two family chalets, one sleeping 13 and the other 9. The chalets share a rooftop hot tub and sauna and a large playroom on the ground floor. Room 1 in Grand Mouflon goes across the whole width of the building and offers a double room, a twin room and an en-suite bathroom. The thing that makes this room stand out is the fact that both the parent's and children's rooms have huge picture windows and a balcony. One side has views of the La Turche slopes, the other side looks down over the village centre and across to the slopes of Mont Chery. The suite really makes the most of this stunning location.
---
Room 1 Select Chalet Katie 1 (or Katie 2!), Reberty 2000.
Our
Reberty
chalets all sit seconds from the slopes at 2,000m in the heart of the 3 Valleys. Until last season Room 1 in the Katie chalets was made up of a small family suite and an adjacent twin room. Last summer we knocked through to create a
spacious new family suite
for up to 5. There is a large double room with king sized bed, a children's room with a single bed and bunks and a light modern bathroom with both a shower and a bath. This new room offers families of 4 or 5 a great amount of space in a superb location.
---
Room 3 Premier Select Plus Chalet Faucon, Les Bruyeres.
Chalet Faucon is new to our programme this season and we worked closely with the owner (who also built the chalet) to create something rather special in this ski in / ski out location.  The chalet offers unrivaled space for a 3 Valleys chalet at this kind of price point; the room itself has a double room, a twin room and two bathrooms both with bath. The room opens out on to a spacious mezzanine area with a wood burner and breathtaking views down the valley.
---
Rooms 1 and 2 Premier Select Plus Chalet Aigrette, Les Bruyeres.
Rooms 1 and 2 in Aigrette sit behind one door to create a fabulous family suite for a family of four. Luxuriously furnished, both rooms have a bathroom with bath and shower and views across to the slopes of La Masse. The chalet itself has a terrace hot tub, a sauna, a private cinema room and (as is the case in all of our chalets) a playroom. Located two minutes from a gentle blue run this is a fantastic base for a family ski trip that books out fast.
---
Room 8 Select Chalet Nicole, Plagne 1800.
We have plenty of family suites sleeping 4 or 5, but just one that works brilliantly for a family of 6. Split over two levels this large suite has a large double room, a bunk room, a twin room, a contemporary shower room and a second bathroom with a bath. There is also a seating area and the room has dramatic views of the slopes and up towards Plagne Centre. Chalet Nicole offers all guests a terrace hot tub, spa room with steam room and sauna and a spacious playroom. It is very close to both the slopes and the ski school meeting point.
---
To discuss which of our chalets and rooms will work best for your family call our team now on 01252 365 495.
We have visited all of our properties and we'll take as long as you need to talk through the options.