Posted by

sf-admin on

Last Updated 11th December 2020 at 10:19 am

Those of you who are Ski Famille regulars, or who follow our newsletters, may have seen us refer to our chalets as being in "superb locations". But what exactly do we mean and why do we think the locations are so great?

One reason that our 16 chalets are so perfect for families is the easy access to the slopes, ski school and other amenities. Forget about having to carry bulky skis up to the slopes in stiff ski boots, and leave more time for actually skiing!

Many families face a dilemma – would you rather be in the heart of the resort and close to the local shops and amenities (Chalet Monet, Marjorie, Bacall and Bogart in Les Gets), or would you prefer to be slightly out of resort but benefit from spectacular mountainside views (Chalet Petit Mouflon and Grand Mouflon in Les Gets)?

For those who want both, we have a few chalets in smaller satellite-resorts that offer breathtaking views but are still nestled close to the hamlet's selection of shops and restaurants, such as:

Whichever chalet you choose, they're all less than a 5-minute walk to the nearest chair lift or pistes. Some even offer instant access to the slopes (ski-in / ski-out).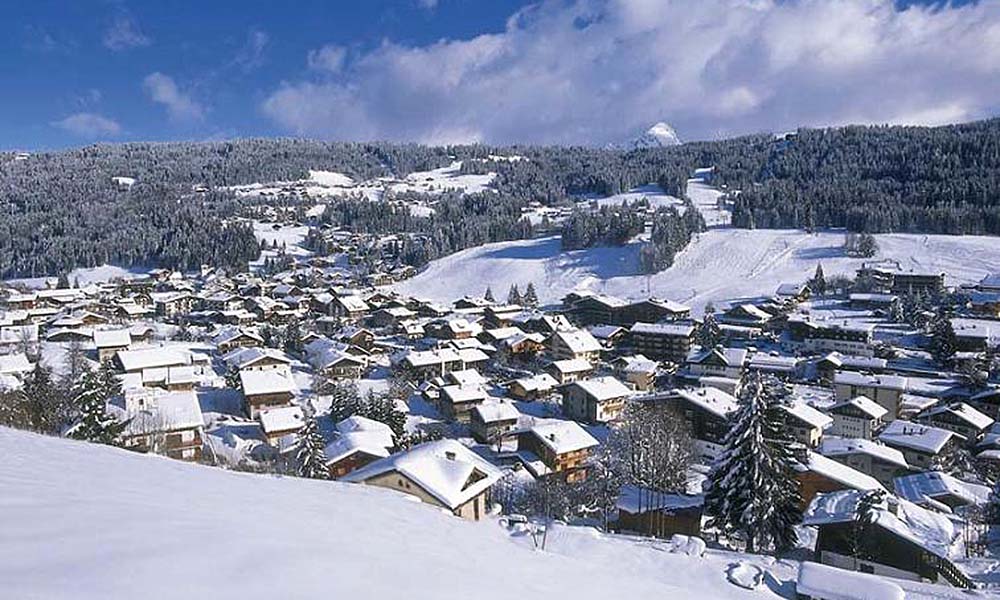 For those who just love a breathtaking view, you can't beat the following chalets:
1. Chalet Aigle
Ski-in / ski-out Chalet Aigle (in Les Bruyeres) is found right beside the piste of the Three Valleys. Aigle's large full-height windows span from its living area up to its mezzanine and offer a truly stunning spectacle of the pistes beneath. Beyond the living area is a spacious terrace where you will find Aigle's outdoor hot tub. If the hot tub's bubbles aren't enough, how about enjoying a glass of fizz while soaking in (pun intended!) the fantastic sights?
On a sunny day, Aigle's views are hard to beat, but perhaps the sunrises and sunsets from Aigle's windows and terrace are equally impressive? After sunset, you'll experience a beautiful skyline of nearby La Croisette slightly further down the mountain.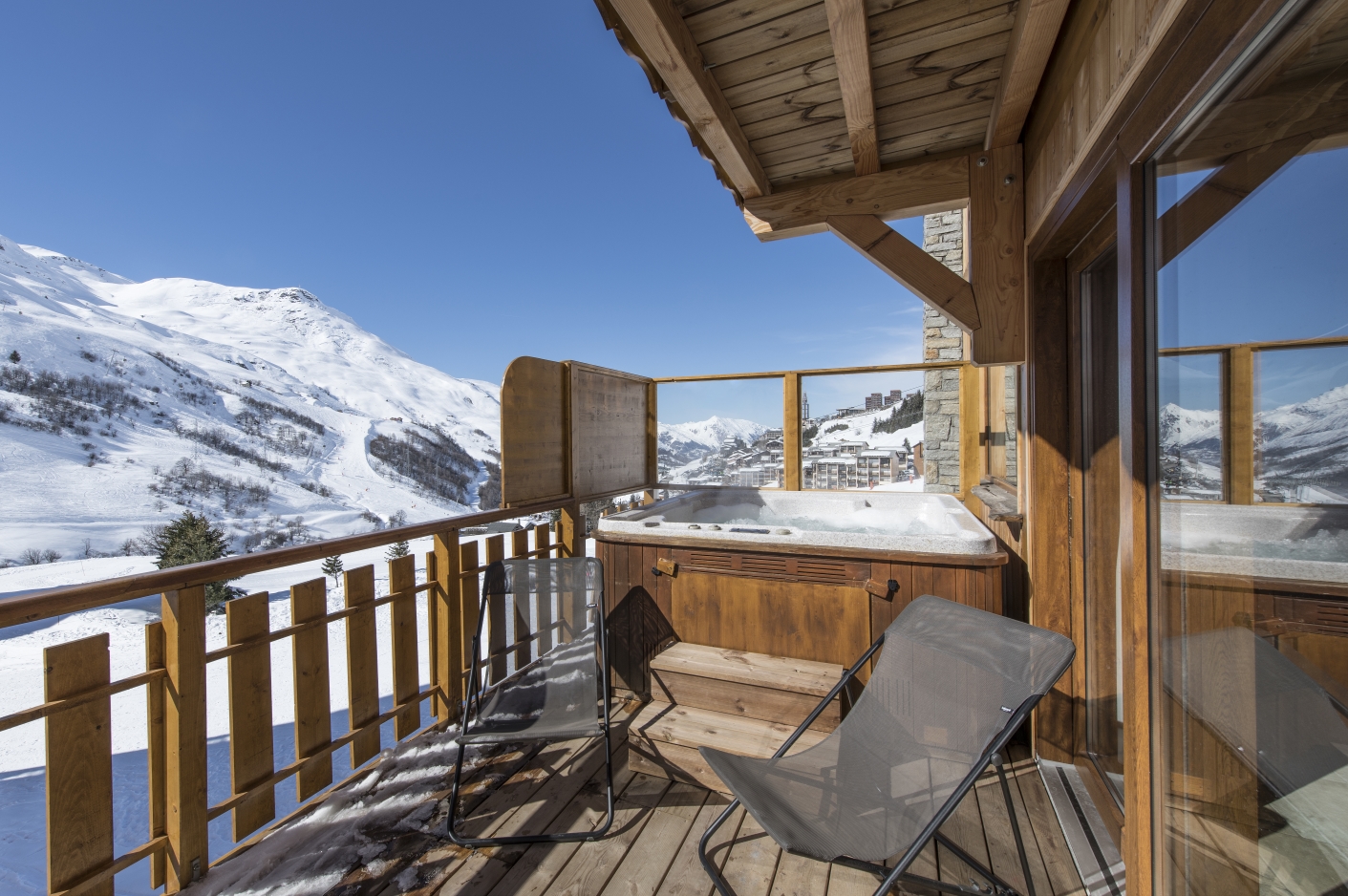 2. Chalet Faucon
Next door to Chalet Aigle is another one of our luxurious Premier Select Plus chalets – Chalet Faucon. The views from Chalet Faucon are very similar to Chalet Aigle as the two chalets are a stone's throw (or snow throw) away from each other. However, with Chalet Aigle being right on the piste and Faucon tucked in a couple of metres from the piste, we've decided to give top spot to Aigle with Faucon being a close second. Despite this, Chalet Faucon is still ski-in / ski-out being just 10 metres (approx) from the pistes. You can still enjoy lovely piste-side views from Faucon's terrace, kitchen and mezzanine through the chalet's full-height windows.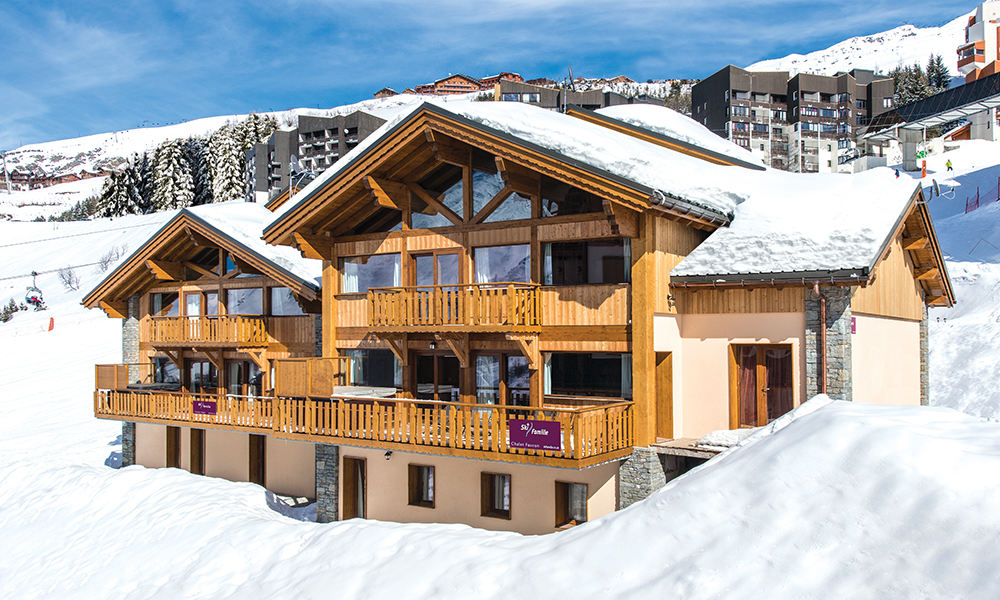 Chalet Aigle on the left and Faucon on the right
3. Chalet Katie 1, Chalet Katie 2 and Chalet Eva
Reberty 2000 is simply beautiful on a sunny day. Thankfully, it gets sunny 'bluebird' days pretty regularly! At 2000 metres, the resort is high in altitude and therefore snow-sure too.
Our three chalets in Reberty 2000 – Chalet Katie 1, Chalet Katie 2 and Chalet Eva – are metres from one another (with Katie 1 and 2 being part of the same building) and therefore offer the same spectacular views.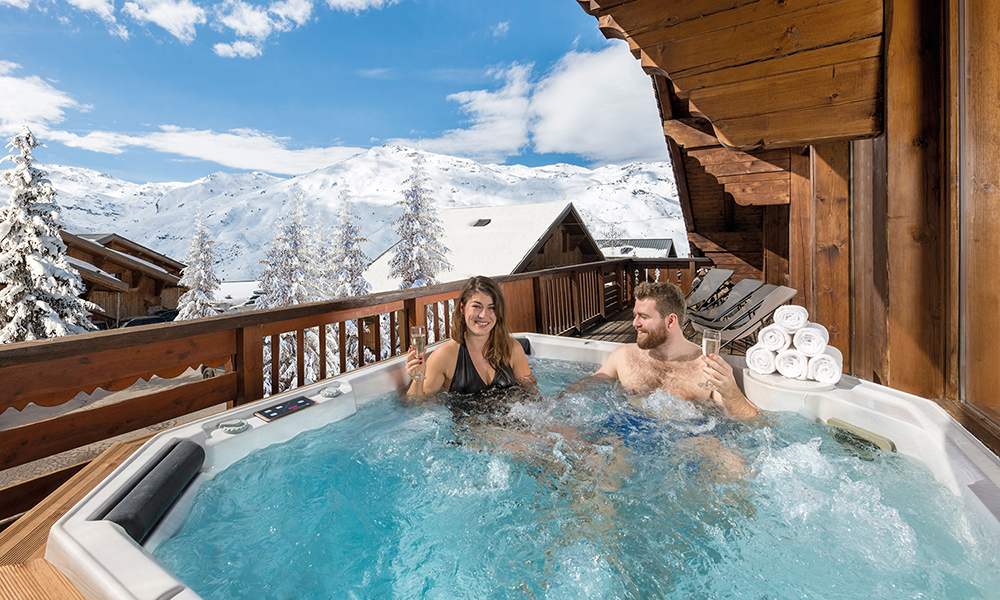 4. Chalet Nicole
Chalet Nicole in Plagne 1800 is our largest chalet sleeping up to 30 guests. The rooms on the higher levels offer great views of the nearby slopes, with family suite Room 8, in particular, offering the very best setting. The spacious family suite is on the top floor of the chalet and has its own living area that looks out to the slopes.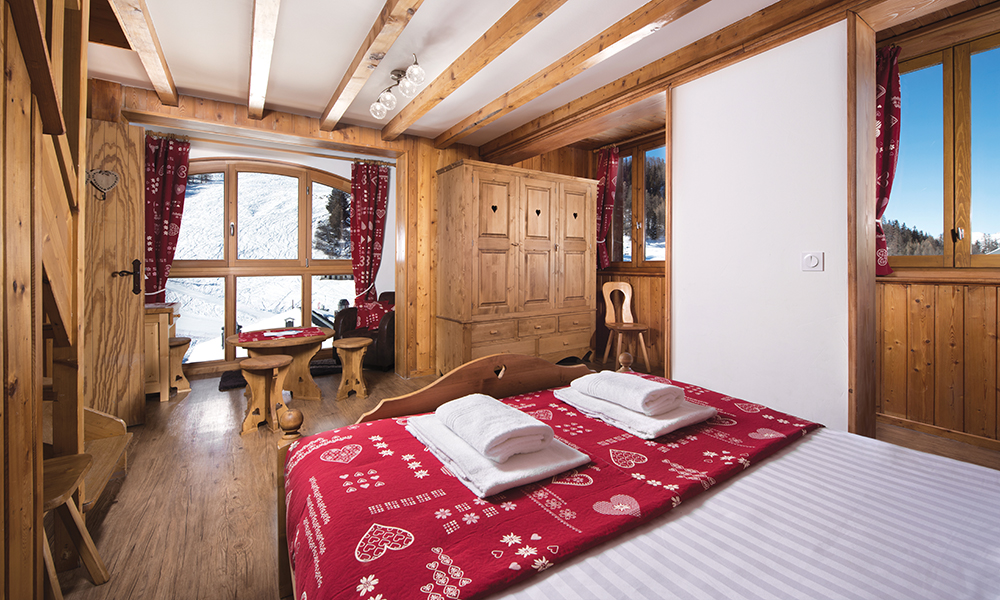 Chalet Nicole, Room 8 (Family Suite)
5. Chalet Aigrette and Corbeau
Our fifth favourite view comes from Chalets Aigrette and Corbeau in Les Bruyeres (3 Valleys). These two chalets sit side by side each other, and on a clear day, you'll find the views from both of these chalets to be terrific. Each of the chalets has its own spacious terraces, complete with individual outdoor hot tubs looking out to the mountains. In our opinion, the bedrooms with the best views are Room 1 (sleeping two), Room 2 (sleeping two) and Room 6 (sleeping up to five). Room 1 and 2 offer great views from their bedroom windows and shared balcony, while family suite Room 6 on the top floor offers beautiful views from the adults' bedroom.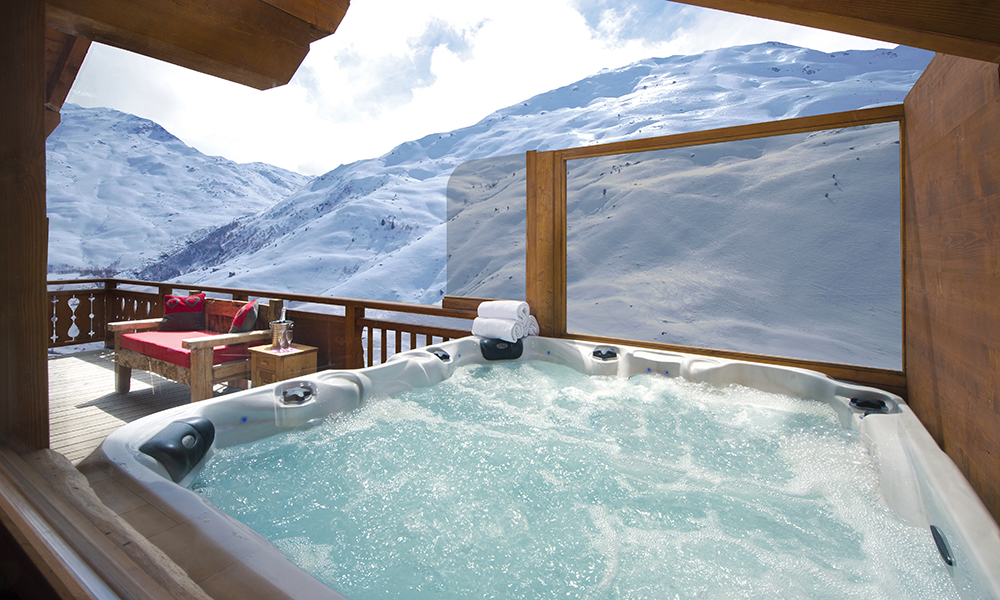 If the chalet you had in mind has not made the list – fear not! We do have many other chalets that offer fantastic views.
Some of our chalets that don't offer these stunning views make up for it by being close to the local amenities. Chalet Monet, Marjorie, Bacall and Bogart are all in the heart of Les Gets and therefore near the resort's ice rink, restaurants, cinema and more!