Posted by

sf-admin on

Last Updated 21st May 2019 at 2:52 pm

Planning a holiday is rarely an easy task, especially when children are added into the mix. There's a lot to think about: is the holiday suitable for your children? Will it be a relaxing holiday for parents? Is the accommodation geared towards families?

As family ski specialists, our holidays are focused and designed solely to the needs of your family. With childcare at the forefront of everything we do, we ensure a hassle-free and enjoyable skiing experience for children and parents.

A key area to consider is your accommodation. In the 28 years we've been operating, we understand and appreciate why chalets are the preferred style of accommodation for families. Chalets offer a "home-from-home" atmosphere. Leave the cooking, cleaning and general domestic chores to our hard-working chalet team from the minute you wake up until you collapse in the evening.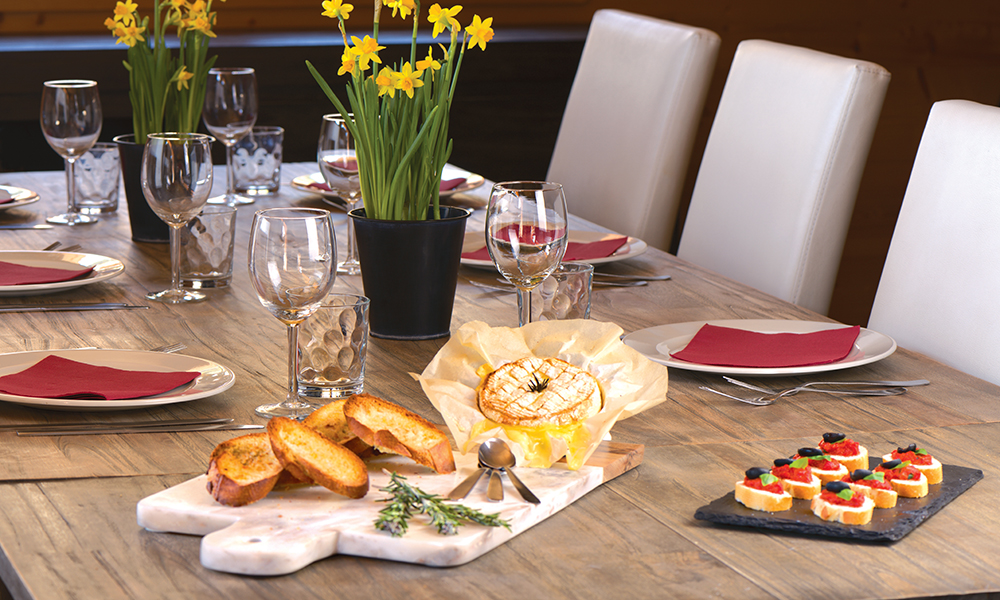 Our in-chalet childcare is provided in your chalet's playroom by our qualified and enthusiastic team of nannies. This unique approach creates a relaxed atmosphere that puts both parents and children immediately at ease. Besides that, there's no snowy trudge to a centralised crèche every morning! We see this as the perfect blend of bringing your home comforts to the mountains while offering all the extra amenities you typically wouldn't find in your own household. All of the comforts and conveniences your children enjoy at home are simply transferred to the mountains.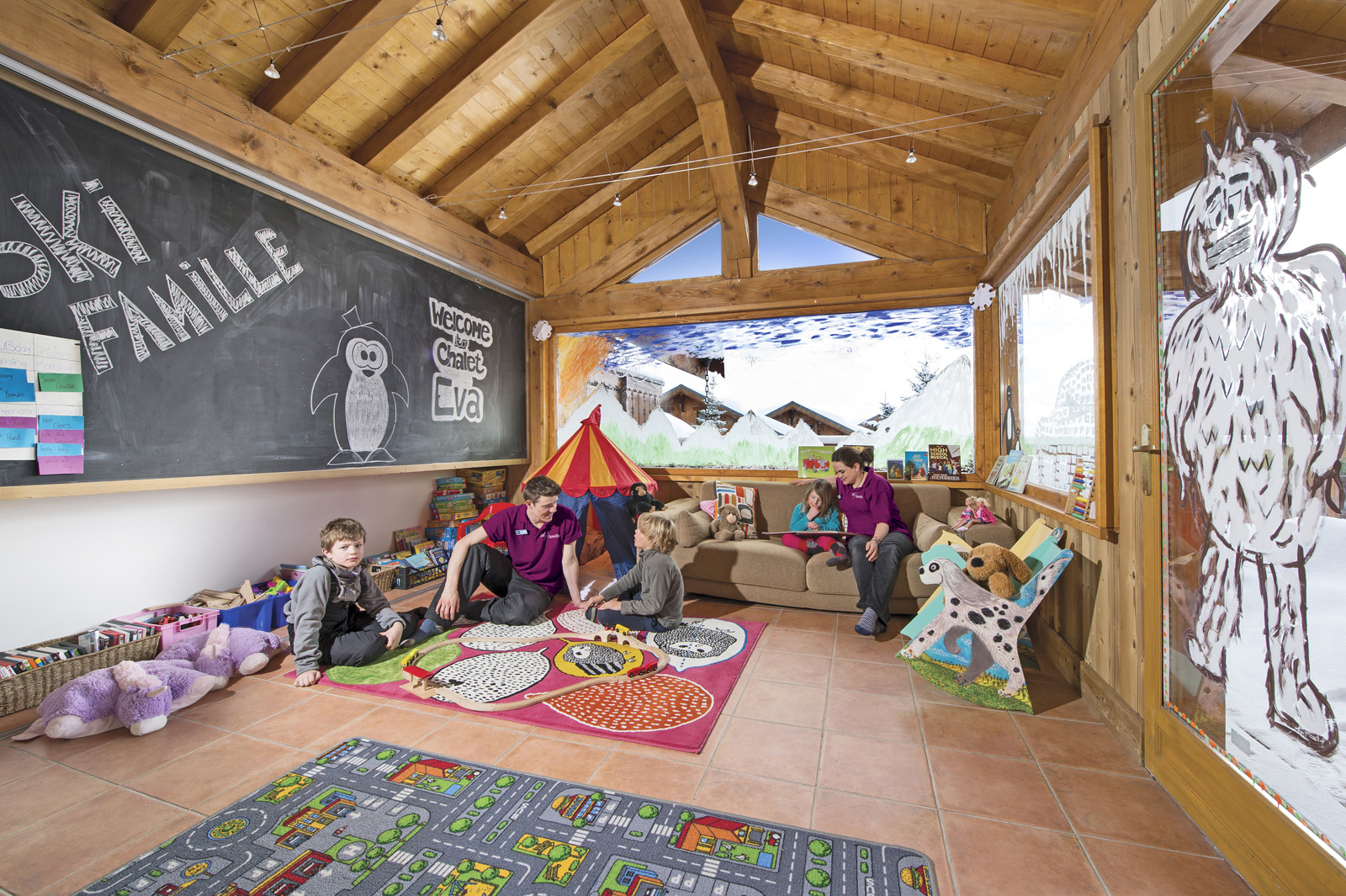 Choosing Your Perfect Chalet
Our chalets range in size and style, with each of our 16 properties equipped with every amenity your family need to ensure a relaxing holiday. Your first choice chalet and room may get booked quickly. We therefore recommend booking your holiday early. Here are some key factors to consider when choosing your accommodation:
Room Configurations That Work For All Families
We offer family suites and standalone rooms. 
Family Suites
Family suites are designed for two adults and two to three children. These suites consist of a parent's bedroom (with a double or king-size bed), a separate children's bedroom (with single or bunk beds) and a bathroom all rolled up together in a cosy package behind one door.
We recommend the spacious family suite (sleeping up to 6) in Room 8 in Chalet Nicole for its fantastic views of the slopes. Visit the Chalet Nicole page and view its floor plan to help you decide if it'll be suitable for you.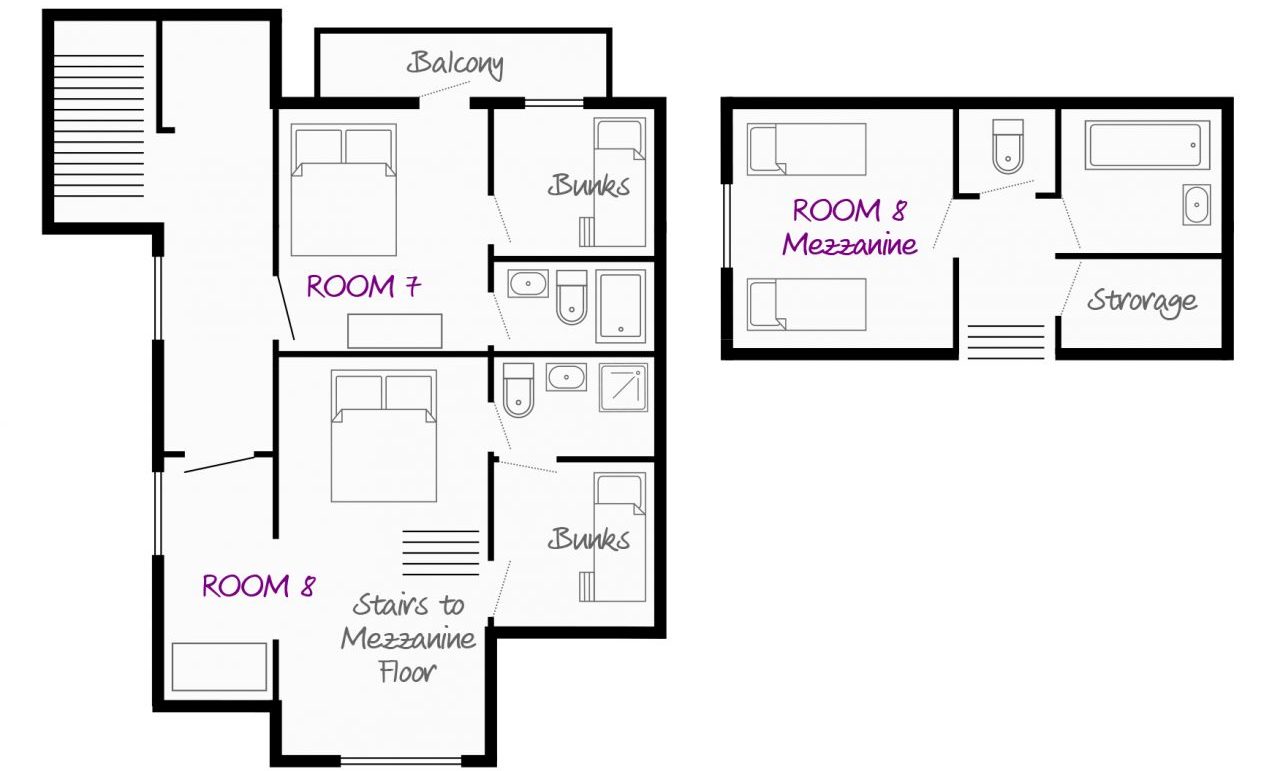 Standalone Rooms
We also have standalone rooms that can be booked individually. These make great options for smaller families, or they can be booked in addition to a family suite for larger parties (such as families who may choose to bring grandparents or friends with them).
It's also worth considering other room features such as the ability to fit in a cot if needed, whether you and your children would prefer a bath or shower, or perhaps if the room has a balcony.
We recommend studying the floor plans and reading the room descriptions – both of which are on each chalet's dedicated page on our website. Using the floor plan from Chalet Nicole below, you can see that Room 4 is a family suite as it contains the parent's bedroom with a double bed and ensuite and another bedroom with a bunk bed for the children. Room 6, on the other hand, is a standalone room with two single beds. We also have many standalone rooms with double beds.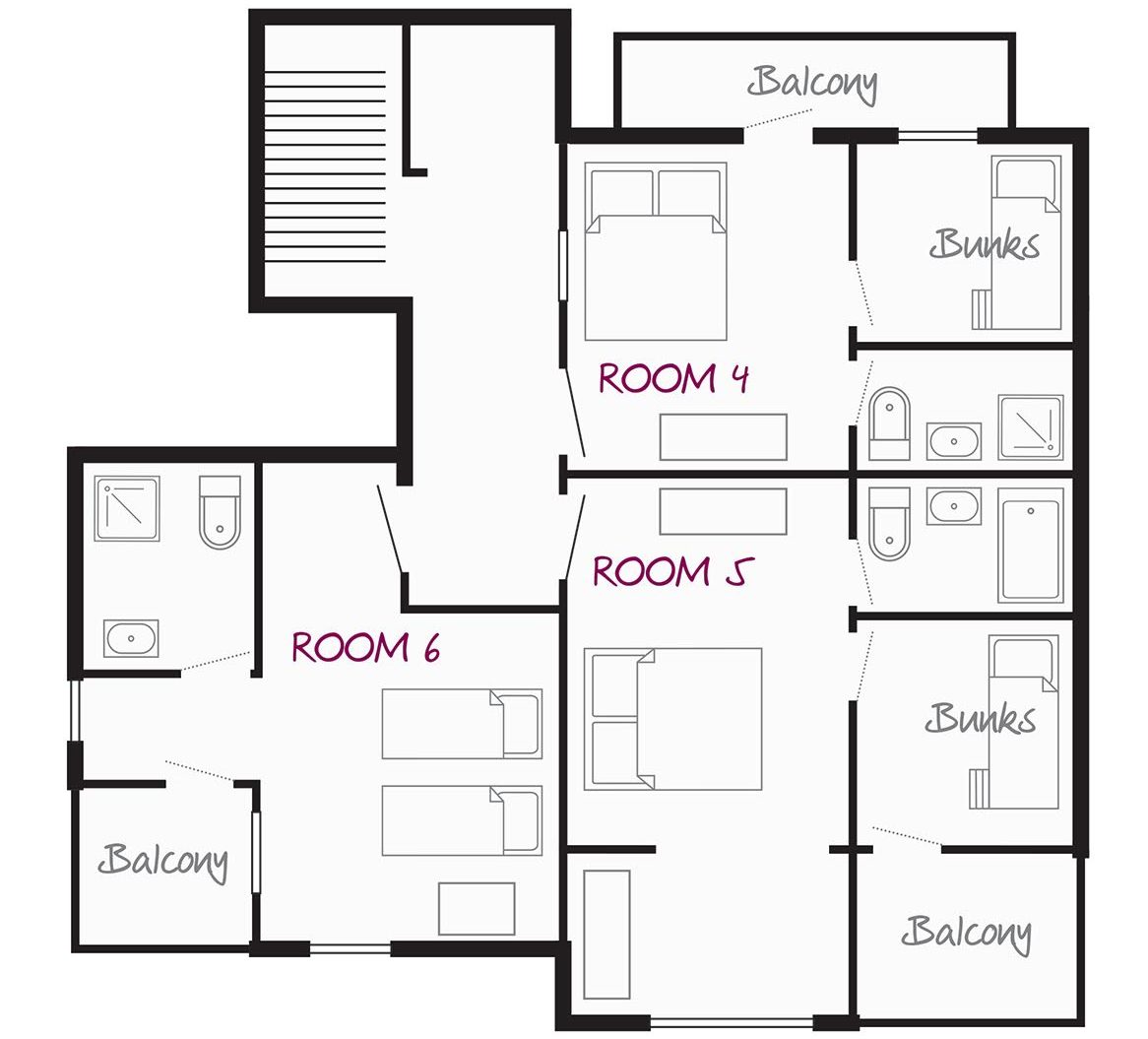 Fantastic Hand-Picked Resorts within Easy Reach of the Slopes, Local Entertainment and Essential Amenities
All of our Chalets within a 5-minute walk to the Slopes
Being close to the slopes or ski school is essential for many families. All 16 of our chalets are less than a 5-minute walk from the slopes, with some being ski-in-ski-out (meaning you can ski to your chalet's front door). There's nothing worse than a long walk to the slopes in stiff ski boots while holding onto your bulky skis!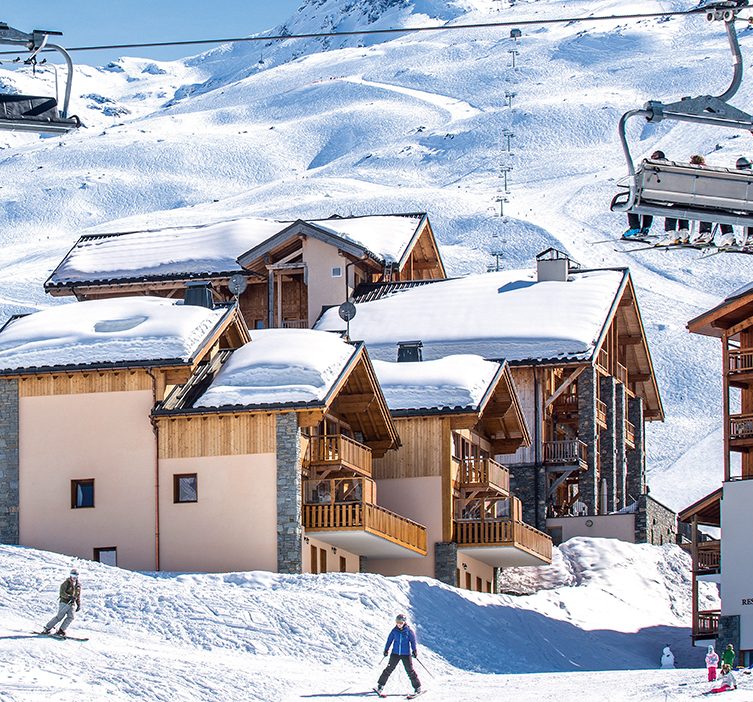 Local Amenities within Easy Reach
It's also worth considering how far your chalet is from the local amenities. If you're in search of a chalet in a wonderful family-friendly resort with lots going on in the village, then we highly recommend Les Gets. Our chalets Bacall, Bogart and Marjorie (all in Les Gets) are in the heart of the magical village, meaning you're a short walk from shops, restaurants, pharmacy and any other stores you might need while still being close to the pistes.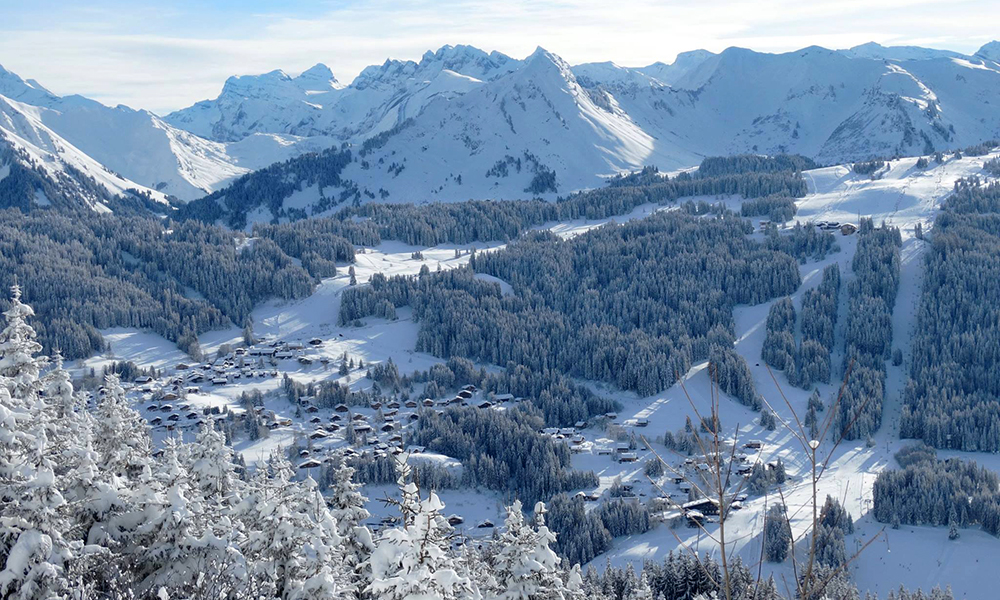 Chalet Facilities to Keep the Whole Family Happy
While skiing is the main attraction, we make sure not to neglect other activities which your family can enjoy! Many guests appreciate the overall atmosphere on a skiing holiday; it's more than just the skiing itself. For that reason, all our accommodations are equipped with facilities to keep the whole family happy. Children love our playrooms, while our outdoor hot tubs are a hit with parents, especially after a long day of skiing. Our dedicated and well-stocked playrooms are in all of our chalets (where our renowned à la carte childcare takes place), and all chalets also have their own outdoor hot tubs, many of which sit on the properties sunny terraces, with views overlooking the stunning mountains.
Our Premier Select Plus accommodations (Corbeau, Aigrette, Faucon and Aigle) have private cinema rooms which are popular with our younger guests. So, while children and teenagers are busy in the cinema room, mum and dad can enjoy some rare, quality adult time with like-minded parents.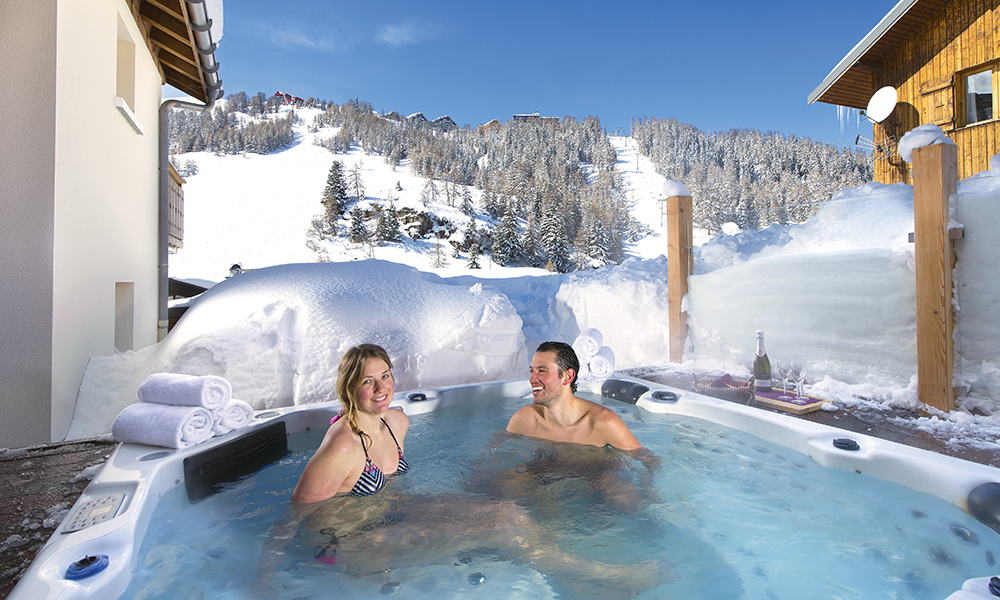 Age-Matching Service for Families
If you're still finding it challenging choosing your chalet, a deciding factor might be the age and gender of other children staying with you for the week. Finding children of a similar age to yours can help them feel welcome and make friends for the week! Call our friendly team on 01252 365 495 to enquire about the ages of children already booked into your chalet.
We recommend booking early as this gives you more choice and flexibility to choose the chalet that suits you best. Use our interactive Family Chalet Finder to find the best property for you and your family's needs.
---
Discover the chalet that's right for your family
Complete our short interactive quiz to find out which of our chalets would suit your family's needs the closest.
Remember that regardless of the chalet your family are staying in, our holidays:
Start on Saturday's and finish on the following Saturday
Include flights and transfers (unless otherwise stated or if you'd rather drive to the Alps)
All-inclusive child-friendly food at 5pm and adult meals at 7.30pm (6 days a week)
In-Chalet Childcare - our nannies look after your children from your chalet's playrooms
Nannies who will walk your child to and from ski school and be on-hand throughout your child's lessons
Spa facilities (one or a combination of; a hot tub, sauna and steam room)
---
What to Avoid
Self-Service Accommodation and Hotels
As skiing parents ourselves, we recommend families avoid self-service accommodation. Escape the household chores and let our highly-trained staff take care of the cooking and cleaning so you can focus on the snow, skiing and family fun that you came for. In a self-service accommodation, all the household chores you've tried to escape from come back to haunt you! We also recommend avoiding hotel accommodation as it lacks the softer and personal ambience that a chalet brings; a chalet is simply a cosy house in the mountains!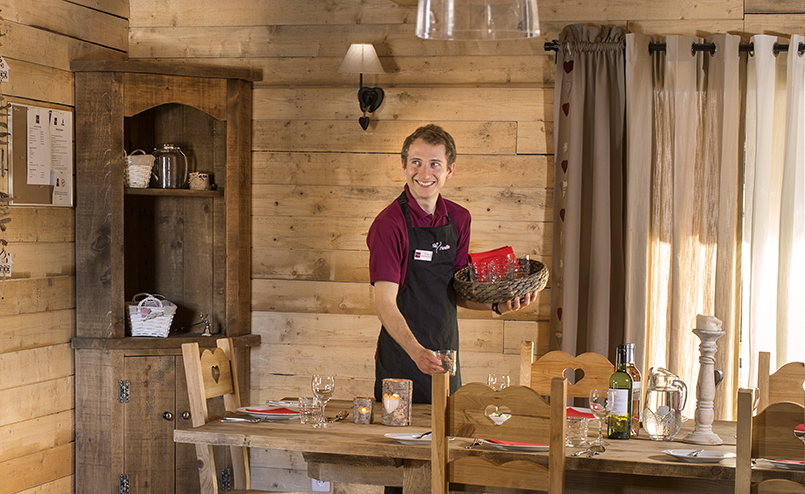 Avoid Party Resorts
Many resorts cater to young people looking to party. Generally, this isn't what families travelling with us are looking for, and for that reason, our chalets are in far more relaxed, family-friendly resorts. This isn't to say you can't enjoy a drink in one of the cosy local resort bars where the nightlife is more mellow.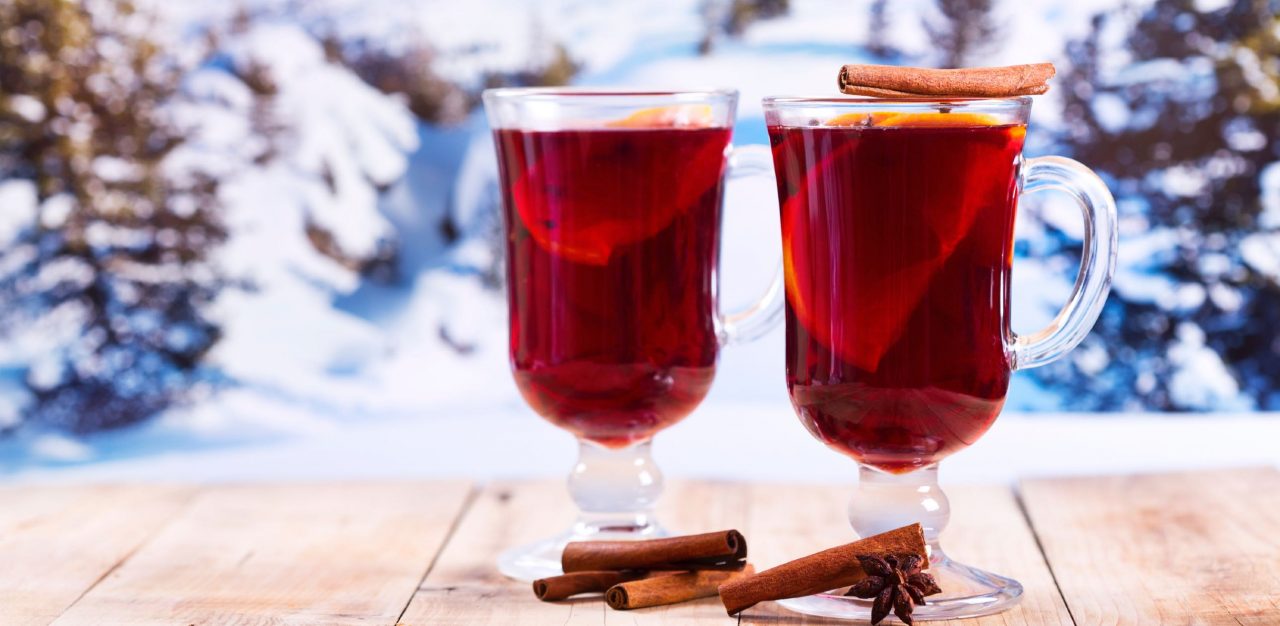 If you would like further advice, our friendly and knowledgeable team can help guide you on the best chalet to suit your families needs. Call us on 01252 365 495