Posted by

sf-admin on

Last Updated 28th October 2019 at 11:35 am

You wake up, walk to your chalet's front door and open it. Up in the mountains, it's so quiet and peaceful. The glistening snow on the slopes beckons to you, while you enjoy some peace and quiet away from your children who are progressing through ski school.

After a freshly-made espresso and a hearty breakfast cooked by your chalet chef, you get everybody dressed up for their first day on the slopes.

Moments after stepping off your doorstep you are on the slopes and, before you know it, you're slaloming down the mountains content in that peak sense of peace known only to skiers.

These are the benefits of doorstep skiing, and you can experience it firsthand with one of our ski-in / ski-out chalets. We've listed our favourite properties below.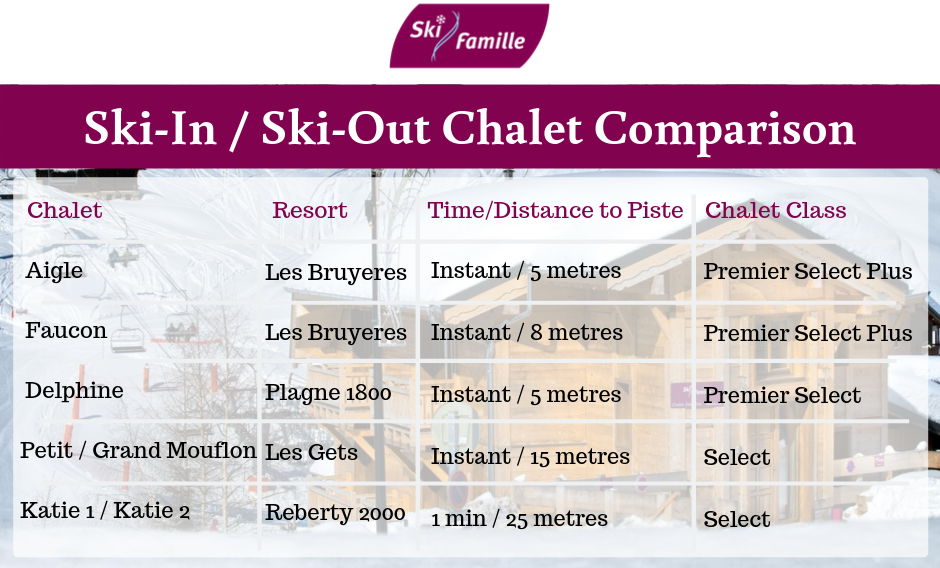 Ski to and from your door in this modern accommodation. Situated right by a pretty blue run in Les Bruyères; Chalet Aigle represents what doorstep skiing is all about. Simply roll out of bed (a king size bed in Family Suite 1 and Family Suite 3!) and you'll be carving your tracks in the world-famous Les 3 Vallées ski area.
Aigle's hot tub on its large terrace offers truly spectacular views of the slopes beneath yet still maintains your privacy. The large floor-to-ceiling windows span the property's living area up to its mezzanine where you can also find this stunning vista of the pistes below.
The accommodation contains all the bells and whistles of a luxurious Premier Select Plus property, including a:
Cinema room

Outdoor hot tub

Sauna

Dedicated and well-stocked playroom

Cosy yet spacious dining area

Mezzanine. 
The family suites are spacious and built to a high standard too. Suite 1 in Chalet Aigle has an open plan en suite with windows that not only bring in natural light, but also offer great views of the nearby slopes without compromising privacy. Aigle sleeps up to seventeen or four families.
"Chalet Aigle was very lovely, spacious and kept clean and tidy throughout the week. Great location, a proper 'ski-in / ski-out!" Hopkins Family, March 2019.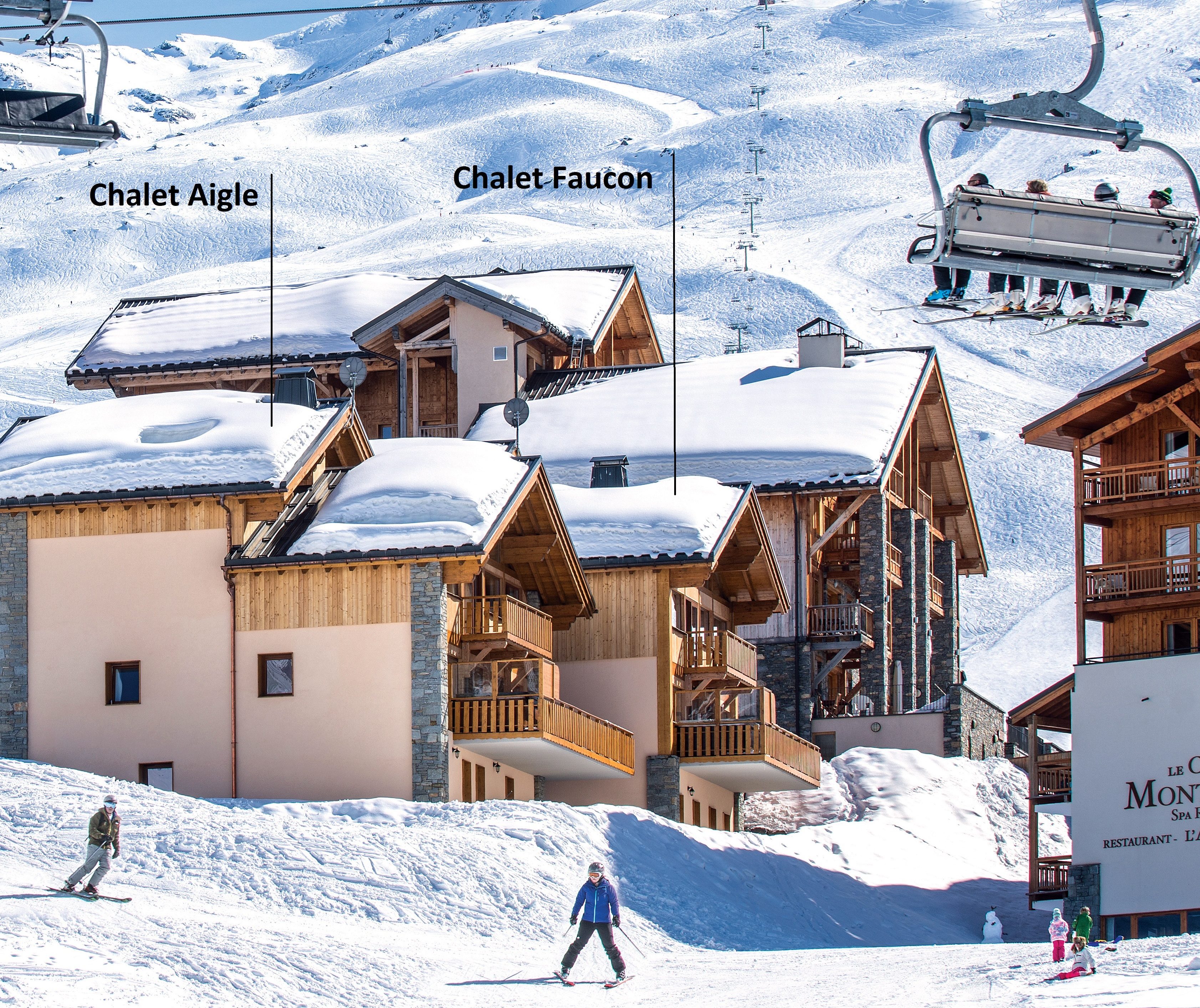 Chalet Aigle is right by the piste
Next door to Chalet Aigle is another luxurious Premier Select Plus chalet – Chalet Faucon. Being less than a stone's throw (or snowball's throw) away from Chalet Aigle, Faucon offers the same ski-in / ski-out experience that Aigle provides despite being slightly tucked in from the pretty blue slope. Similarly, Faucon offers views of the nearby blue run… simply pop your head out of the window to check on snow conditions or to see how busy the slopes are. Witness the best views from Faucon's dining area, mezzanine and spacious terrace.
Like Aigle, Chalet Faucon sleeps up to seventeen (or four families) and was also built to a very high standard. The two new properties are not too different inside as they were built during the same period, just over two years ago.
Some of Faucon's key amenities include:
Its own cinema room (always a hit with the kids!)

An outdoor hot tub

Sauna

Dedicated and well-stocked playroom

Cosy yet spacious dining area

Relaxing mezzanine area.
"Chalet Faucon was beautiful and very comfortable. We loved our room on the top floor and there was loads of space." Strawbridge Family, February 2019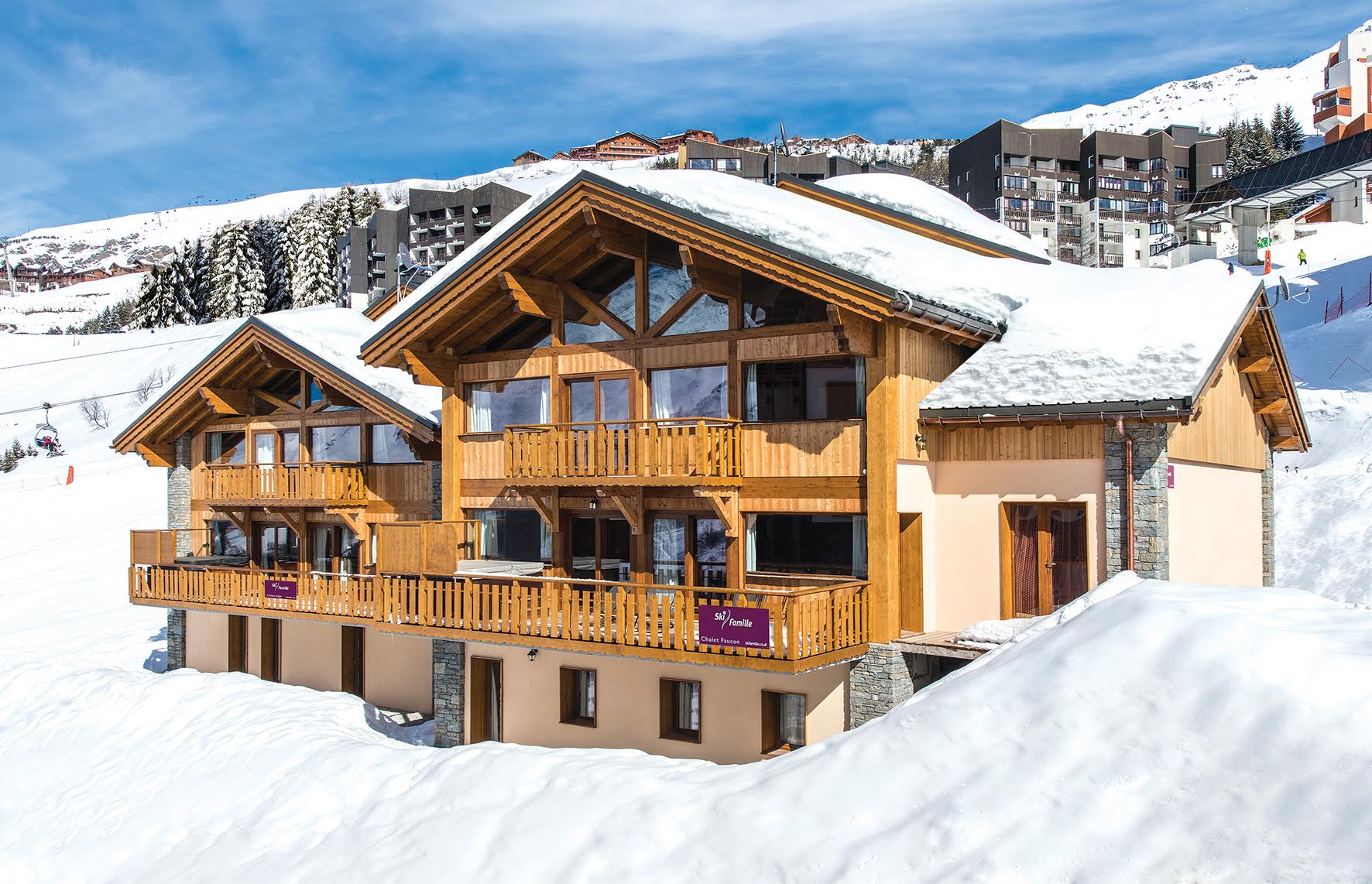 Chalet Faucon (right) is next to Chalet Aigle and also offers doorstep skiing 
Situated in the pretty Plagne 1800 satellite resort, Chalet Delphine is a well-positioned, family-friendly property by the slopes, with the '1800 chairlift' right on your doorstep. As Delphine is in the expansive Paradiski ski area, your family has great links to Plagne Centre — the hub of many shops, restaurants and activities.
The chalet provides plenty of doorstep skiing opportunities. Ski to and from the chalet's boot room to many other Paradiski satellite resorts including Plagne Bellecote and Plagne Villages.
The top floor living area of the Premier Select property offers stunning views of the pistes beneath as well as the surrounding mountains. The bedrooms beneath the top floor living room provide similar views of the slopes (Suite 1, Suite 3 and Room 4). These rooms are a real treat on a sunny 'bluebird' day in resort… although we're sure you'd rather be soaking in the sun on the slopes!
In addition to the terrific views and doorstep skiing, Delphine also offers an air of luxury and style inside that sets it apart. All rooms are en suite, plus the chalet comes with added touches such as an espresso coffee machine, an upgraded wine list and a cheese board. Like all of Ski Famille's chalets, Delphine has an outdoor hot tub and its own well-stocked playroom.
"Such a lovely chalet with a warm and friendly atmosphere." Colvin Family, March 2019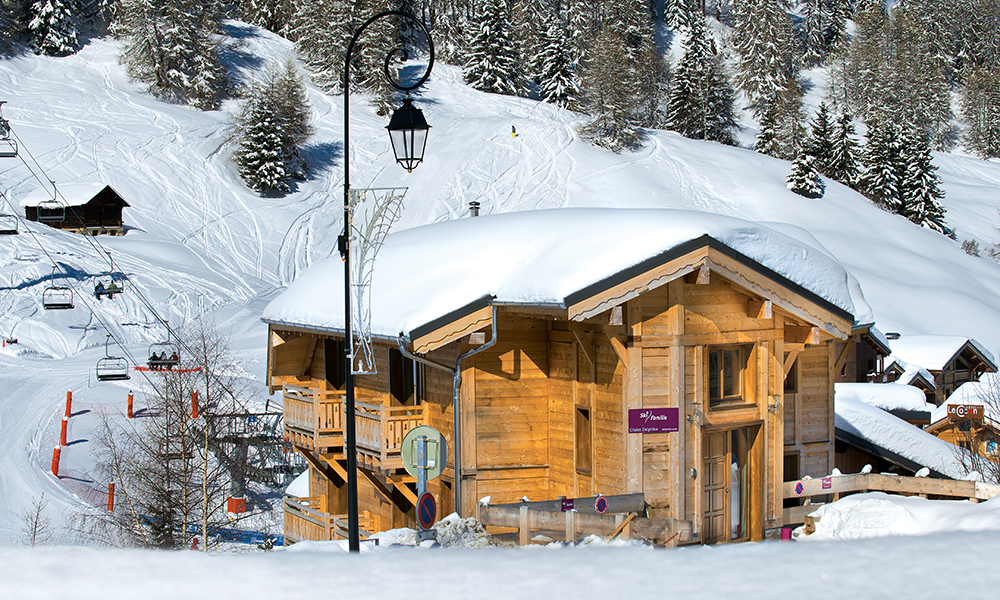 Chalet Delphine and the 3 man "1800" chairlift right on your doorstep
The two Mouflon chalets — Chalet Petit Mouflon and Chalet Grand Mouflon — sit next to each other in the picturesque La Turche area of family-friendly Les Gets. Found at the bottom of a tree-lined blue run, the Mouflons are only a one-minute walk to a drag lift at the foot of the pistes, or you can ski down to a six-man chair lift.
Aside from its terrific location, both of the Mouflon chalets combine traditional alpine touches with a stylish, modern design. Luxurious touches include a shared unique penthouse-style hot tub and new sauna. The chalets also share a playroom, while their bedrooms are bright and airy with large picture windows.
Grand Mouflon sleeps up to thirteen or three families while its neighbour, Petit Mouflon, sleeps up to nine (or two families). For those wanting a touch of luxury, grab your friends and loved ones (you'll need up to twenty-two of them) and book this chalet on an exclusive basis.
"Everything fabulous. Friendly, professional, hard-working, genuine staff. Food was all delicious. Sauna and hot-tub heavenly." Holyoake Family, December 2018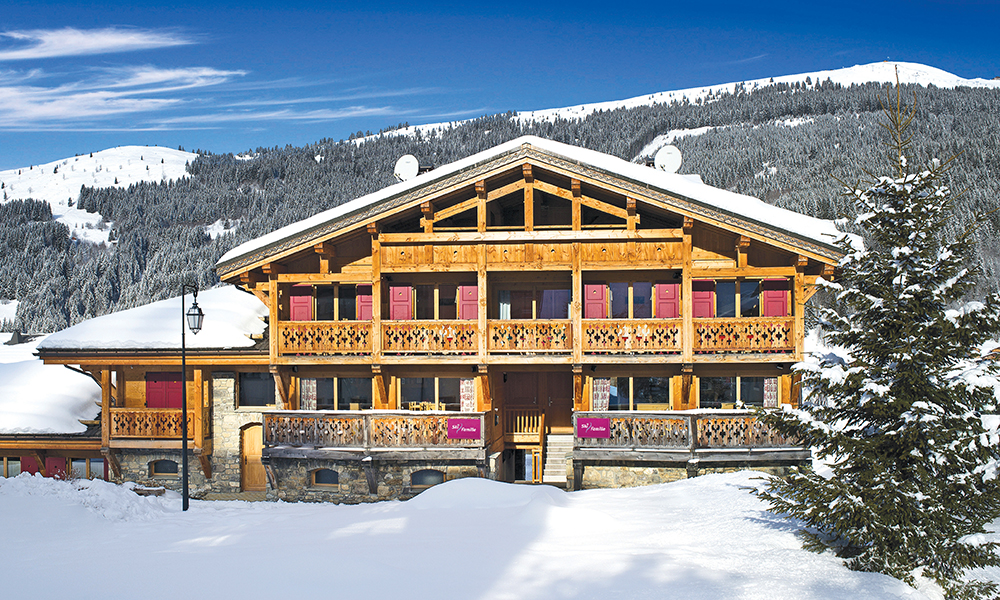 Chalet Grand & Petit Mouflon and their brilliant location
Chalet Katie 1 and Chalet Katie 2 are two more chalets that are adjoined together. The Katie chalets are located in the dainty hamlet of Reberty 2000, part of the renowned Les 3 Vallées ski area. 
Both chalets are footsteps from the slopes and ski school meeting point (a winner for families). Ground heating put in place on the path to the chalets means they're strictly speaking no longer ski-in / ski-out. Having said that, Reberty 2000 is very compact so you're never more than a few metres from the slopes, ski school, ski hire shop or mountainside restaurants such as La Ferme de Reberty.
From their interiors, you'll find that the two chalets are virtually mirror images of one another. Both Katie chalets have individual (and often sunny) terraces where you'll find their own hot tubs with fabulous vistas of the surrounding mountains. On the ground floor is a new spacious family suite (Suite 1) with a king size bed, lounge area, and an en suite with a bath, large shower and 'his and hers' basins. You'll also find a new spacious playroom that spans both chalets with a comfy TV area for evening use. Each Katie chalet sleeps up to thirteen individuals or up to three families. As two parts of the same building, Chalet Katie 1 and 2 can be booked together for large parties seeking exclusivity during their week in the mountains.
Our other chalet in Reberty 2000 is Chalet Eva (near to Chalets Katie 1 & 2). Unsurprisingly, Eva is also very close to the slopes and ski school meeting point too.
"The chalet and staff again were excellent. Very responsive to any request and very friendly and attentive." Sabin Family, March 2019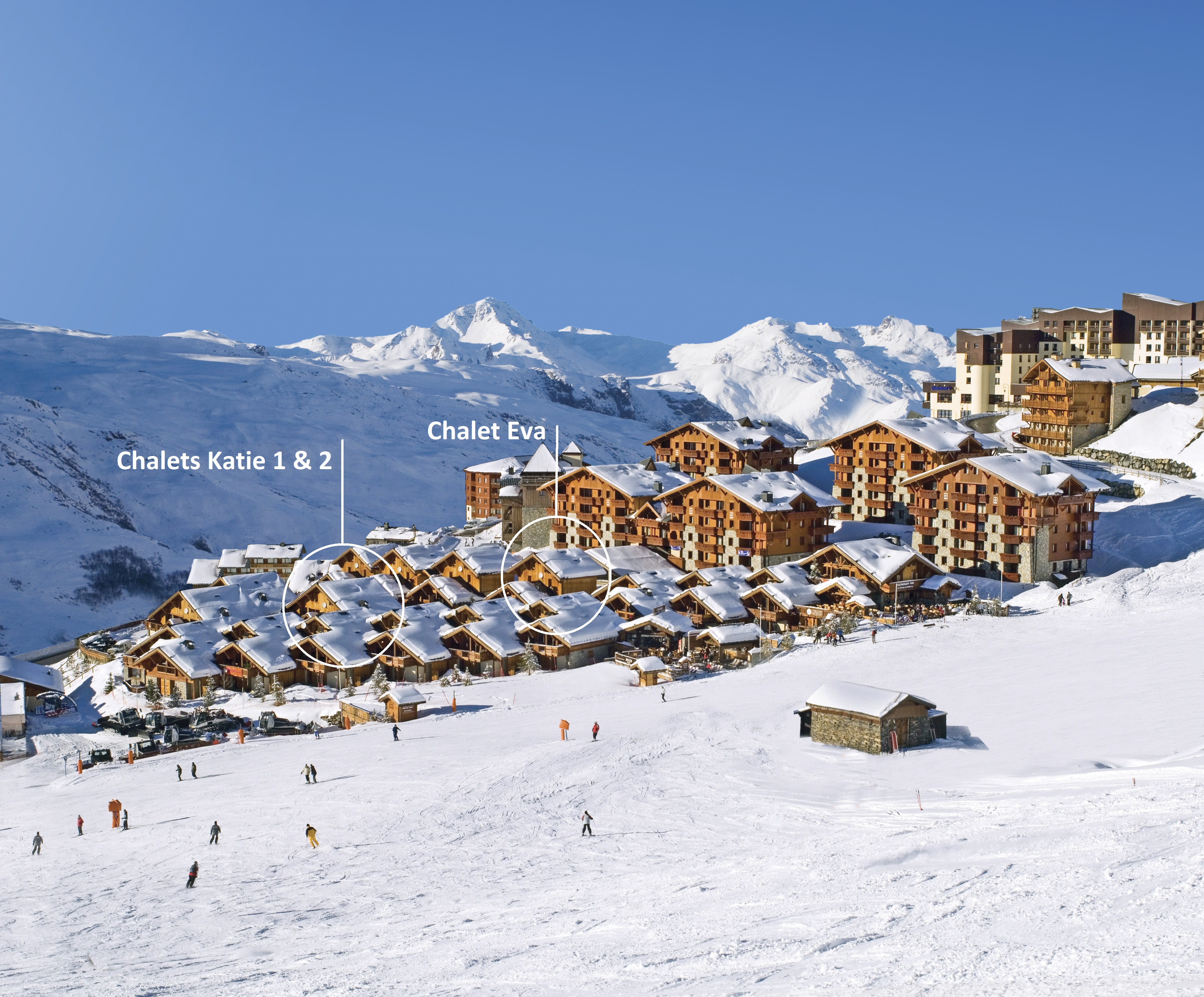 Chalet Katie 1 & 2 and Chalet Eva all offer quick access to the nearby 3 Vallées pistes
So there you have it. Les Bruyères, Plagne 1800, Reberty 2000 and Les Gets all have plenty of options when it comes to choosing a ski-in / ski-out chalet. Our other chalets that haven't been mentioned in this article may not be ski-in / ski-out; however, they are all within five minutes' walk from the nearest ski lift or pistes (most are a lot less than five minutes' away).
Discover more on these chalets, as well as checking availability for this Winter, by using our chalet search page or call our friendly team on 01252 365 495.